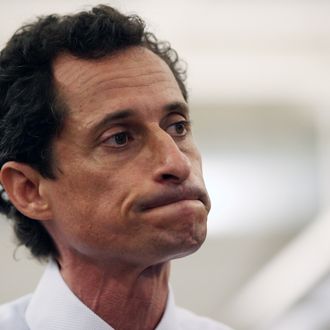 Anthony Weiner, a leading candidate for New York City mayor, stands with his wife Huma Abedin during a press conference on July 23, 2013 in New York City. Weiner addressed news of new allegations that he engaged in lewd online conversations with a woman after he resigned from Congress for similar previous incidents.
Photo: John Moore/Getty Images
Following what was probably one of the longer weeks of his life, Danny Kedem left the campaign on Saturday. Weiner confirmed the news to reporters: "[Danny] did a remarkable job," he said. "We have an excellent staff. More people have come on frankly. We've gotten more volunteers and more people coming over to help the campaign since the least several days since anytime since the campaign started." We hope all those people have really good senses of humor.