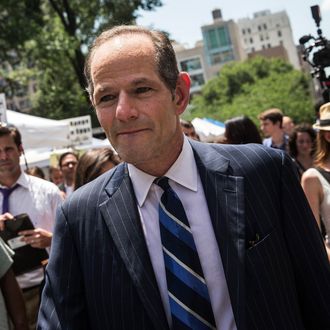 Photo: Andrew Burton/2013 Getty Images
Up to this point, there were restrictions on how much Scott Stringer enthusiasm one could express financially, but now if you really love the city comptroller candidate – or really hate his opponent Eliot Spitzer – the sky's the limit. The New York Times reports that an unlikely coalition of women's advocates, business leaders, and labor unions has formed with the goal of advertising and mobilizing voters to ensure that Spitzer remains a former politician. To accomplish these tasks, they've formed two super-PACs, which promise to bring a taste of the absurdly expensive 2012 presidential election to New York City politics.
Spitzer's lead dwindled to within the margin of error in the latest poll, but he's still benefiting from constant media coverage, while there's relatively little interest in Stringer's years in local politics and relation to feminist icon Bella Azbug. The two super-PACs are launching campaigns on Tuesday that they hope will level the playing field. ForwardNY, which consists of business and women's groups, aims to raise $1 million for its push against Spitzer. Their website mentions Spitzer's "failures" four times in two paragraphs, and claims he "demonized hard-working men and women of the City as 'special interests.'"
The second group, Progress NYC, is made up of four labor unions representing health care workers, building employees, hotel workers, and teachers. It seems to be more motivated by Stringer's history of supporting labor than rabid opposition to a former prostitution enthusiast returning to politics. The group plans to kick of its campaign with a radio ad urging Latino voters to support Stringer.
Spitzer may still outspend the groups, as he's opted out of the city's campaign-finance system (which he advocated as governor), and is relying on his own considerable wealth. And the race for comptroller isn't the only city election where we'll see the effects of the Supreme Court's Citizens United decision. Crain's New York Business reported over the weekend that three independent groups are already spending in the mayoral election, and Jobs for New York PAC plans to spend $10 million to elect pro-business candidates to the City Council. Crain's predicts that New York City will become "a test case for what independent expenditures can do in municipal elections," and city voters can expect to "experience some of what their counterparts in presidential swing states did last year." If you need to stop answering your phone and checking your mailbox until after the election, no one would blame you.