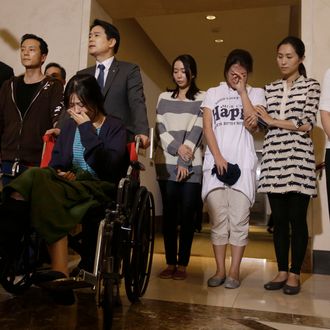 Flight crew members from Asiana Flight 214 appear at a news conference on Wednesday.
Photo: Jeff Chiu
Despite complaints from a pilots union that the NTSB is being too transparent in its investigation of the crash of Asiana Flight 214, the agency offered up more of its findings at a press conference on Wednesday evening. Aside from an odd detail about one of the pilots claiming to be blinded by a flash of light during the landing ("We really don't know what it could have been," said NTSB chairwoman Deborah Hersman), most of the new information focuses on the flight attendants, and why the pilots waited 90 seconds before telling them to evacuate the plane.
After the crash, two flight attendants went to the cockpit to ask the three pilots for directions. The pilots told them to delay evacuation while they communicated with the tower, and passengers were instructed to remain in their seats. Then a flight attendant seated just ahead of the wing said they had to get off the plane immediately. "He could see fire outside of the window," Hersman said. "He sent the flight attendant who was sitting with him up to the front of the cabin to let them know that there was fire and that they needed to evacuate."
The plane's doors were then opened and passengers began exiting via escape slides. Two of the slides had opened into the cabin during the second impact, pinning two flight attendants. They managed to get free, but were injured by the slides.
While delay sounds like another questionable call by the pilots, especially since the NTSB says the standard is to have the plane fully evacuated within 90 seconds, they were defended on Wednesday by none other than Capt. Chesley Sullenberger. The "Miracle on the Hudson" pilot, who is now a CBS News aviation consultant, said the flight attendants are supposed to get direction from the cockpit if possible. "Some number of seconds would have been necessary for [the pilots] to assess the situation and make sure that it wasn't more dangerous for them to immediately evacuate into an unknown situation than to remain onboard," he explained.
Earlier on Wednesday, six members of the cabin crew made a brief and uncomfortable appearance during a press conference at San Francisco International Airport. At least one crew member was crying, and another was in a wheelchair. "I wholeheartedly feel it was unfortunate that such an incident occurred," said cabin manager Lee Yoon-hye in Korean. "I pray that everyone who was hurt by this incident will recover swiftly."