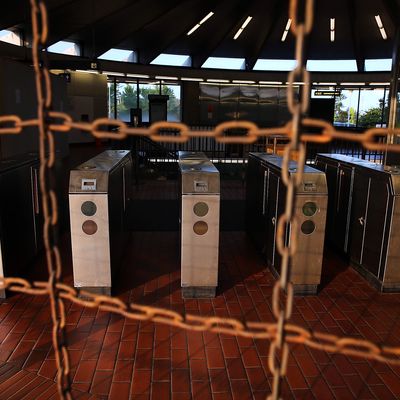 BART, closed for business.
Photo: Justin Sullivan/Getty Images
San Francisco is a far different city, travel-wise, than New York. In New York, most people take some form of public transportation every day, with a sprinkling of cab rides for times when the subway is inconvenient or running oddly. Here, the private sector rules. In addition to taking ubiquitous Uber cars, San Franciscans rely on ride-sharing services like Lyft, Sidecar, ZimRide, Flywheel, and more. To get to work in Silicon Valley, many of them board luxury buses owned by their tech companies.
The kudzu-like spread of private transportation companies in San Francisco has been good for city residents who can afford to use them, and the dot-com founders that have gotten rich by replacing public-sector functions with their own services. But yesterday, when a system-wide BART strike took down the Bay Area's best form of public transportation, we saw the dark side of Silicon Valley's obsession with privatizing everything. Namely, it has created a two-tier transportation caste system, where the private-sector solutions flourish, often at the expense of the public infrastructure that a large part of the population still depends on to get to work and go about their lives.
The BART strike, now in its second day, has shut down the entire Bay Area transit system, leaving highways and bridges clogged and ferries with long lines and overflow crowds. It's made for some ugly fights between BART's management and union leaders, who are dissatisfied with the state of their contract renewal negotiations. The strike has also exposed just how deep the divide between the haves and the have-nots goes, when it comes to getting around.
Just compare these two reactions to the BART strike. One is from an executive of a ride-share company called Avego, which allows drivers to open up their cars (for a fee) to strangers looking for a lift:
"All you need to do is book a trip from San Francisco to wherever you're going home for tonight or every day this week there's a strike," Paul Steinberg, director of Americas for Avego, said in an interview on "Bloomberg West."
And another is from a working-class Oakland resident who uses BART to get to work every day:
Ilysha Kipnis of Oakland expected limited BART service, not zero service. Because buses and ferries were jammed, she decided to take a bus back home to wait out the traffic.

"We're so reliant on public transportation," said Kipnis, who works at a salon in San Francisco. "Hopefully, (BART directors) understand how much we need the trains to run. … I really need it."
Notice the split here. The tech executive assumes that people who are stranded by BART can simply arrange for an alternative way of getting to their destination. (Incidentally, his company is also the one running a helicopters-for-commuters promotion to take advantage of the BART strike.) But the Oakland resident doesn't work at Google or Facebook, where free shuttle service is provided, and she can't easily get herself around by car. For the tech executive, a BART strike is an annoyance. For the salon worker, it's a threat to basic existence.
A subway strike would be more effective in a city like New York, where rich people as well as poor people take public transportation all the time. In the Bay Area, many high-earners have already moved on to what amounts to a private services grid. They get to work on corporate shuttles, go out at night using Uber or Lyft cars, and use services like Seamless to bring food and other necessities to them. They've accepted the public sector's dysfunction as a given, and they've already abandoned it for most basic services.
Companies like Uber and Lyft didn't cause the public sector's problems, but they're profiting from them. And when policy-makers begin to see these services as legitimate replacements for public infrastructure, their incentives to make public services better will disappear. The BART strike has shown how decades of erosion of the tax base, coupled with the rise of a tech-savvy elite that can afford to pay for private services, has reduced public transportation to a second-class alternative and taken away much of the subway unions' negotiating leverage. After all, with so many private options for getting around, why does it matter if a few hundred thousand BART riders are stranded?
The founders of companies like Uber say they want to make private transportation cheap enough for everyone to use. It's a noble impulse, and it should be applauded. But public transportation will always be more cost-effective than even the cheapest private services. You can get from Oakland to South San Francisco on BART for $4. No private-sector app will ever survive by charging fees that low.
I'm guilty in supporting the rise of premium, for-profit transportation services. I use them all the time, and I'm generally glad they exist, for times when public transportation falls short or isn't available. I might even use one to get into San Francisco this afternoon, for a meeting I'm scheduled to have. But if I do, I'll do it with a tinge of guilt, while thinking of the people who are truly stranded by BART's shutdown and left out of the private-sector schemes of Silicon Valley disrupters.