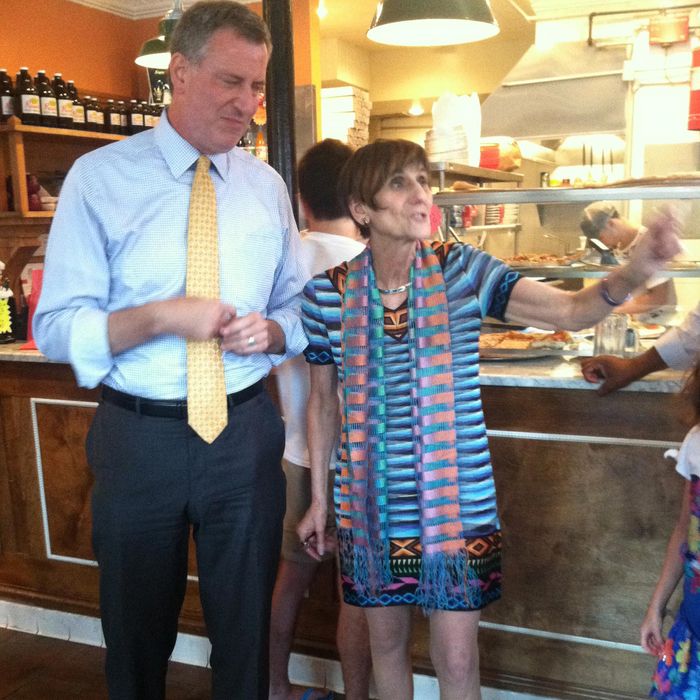 De Blasio and Tumblr icon Rosa DeLauro.
"I'm here because I am going to deliver the Williamsburg vote!" smirked U.S. representative Rosa DeLauro to a few dozen Democrats eating slices and sipping beers at Rosco's Pizza on Franklin Avenue in Crown Heights Saturday evening.
The quirky congresswoman from New Haven, Connecticut did not have her neighborhoods confused. Public Advocate Bill de Blasio's mayoral campaign organized a fund-raiser billed on Facebook as "Hipsters for de Blasio," and DeLauro, whose wild attire and hard-charging feminism memorably inspired a Tumblr blog called Rosa DeLauro Is a Fucking Hipster, was present to make a tongue-in-cheek appeal to the broader "constituency" of twenty- and thirtysomething creative types that have swarmed to certain neighborhoods in Brooklyn and Queens in recent years — and perhaps Williamsburg more than any other.
A smattering of said people were in attendance — thick-framed black glasses, plaid shirts, fedoras, and all — but there were also older folks and even a few families with babies. This was the Franklin Avenue of New York Times trend-piece fame, an essential stop (along with Bedford Avenue) in the New Brooklyn. And now de Blasio, a towering liberal pol from Park Slope who had a beard once, was ready to stake his claim.
"There happen to be a bunch of people who've moved to Brooklyn who have a kind of shared worldview about a lot of issues, but I don't know if it's because they have a beard or wear skinny jeans or are ironic about kitschy things or what," de Blasio's pollster, Anna Greenberg, told me at the event. "I don't think Bill's ability to speak to them comes out of some grand strategy, but from who he is."
The timing was certainly appropriate, what with Democratic rival (and fellow outer-borough white dude) Anthony Weiner's latest implosion over his stubborn insistence on sending dick pics to random women on the Internet. Besides, a shameless play for the votes of transitory young liberals makes perfect sense for the most progressive figure in a field of candidates otherwise largely content to roll the dice with identity politics.
"The happening new generation is here!" de Blasio goofily exclaimed at one point, reveling in what is both a joke between him and campaign staff — the hipster vote is not taken seriously by most observers of city politics — as well as a genuine effort to get some buzz going among younger voters who disapprove of NYPD Commissioner Ray Kelly's aggressive policing tactics, are concerned about rising income inequality and the lack of affordable housing, and have serious doubts about the trustworthiness not just of the serial sexting man-child from Brooklyn but also City Council Speaker Christine Quinn of Chelsea.
De Blasio's biggest crowd-pleasers were the (brief) shots he took at front-runner Quinn. Joshua Lieberman, an NYU graduate program administrator at the event, referred to Quinn as the "hypercapitalist monster" in the race because she helped Bloomberg secure a third term and has generally cooperated with his business-friendly political agenda.
Strong numbers among white lefties will be essential if de Blasio is to secure a coveted spot in the Democratic runoff, where the top two primary vote-getters will face off for the nomination (unless somebody tops 40 percent). He will also need generous support from black voters in the outer boroughs who have felt spurned by Bloomberg's focus on beautifying Manhattan. To that end, de Blasio snagged the endorsement of 1199 SEIU, the largest union in the city (and many of whose 200,000 members are black women), back in May. 
"I feel sometimes like I'm in a spy movie, that we have the numbers no one else has," de Blasio said, expressing confidence that the 14 percent of Democrats he pulled in the latest Marist survey was just the beginning of his rise in the polls.
But if de Blasio's advisers insist they're not spending a lot of time or energy thinking about what New York City's hipsters want, they do seem to believe he has a message that will inevitably reach them.
Cool?