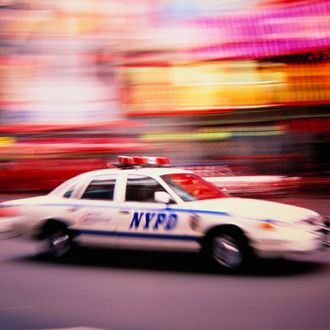 It seems impersonating a police officer isn't just a recent problem in Queens. As the Associated Press discovered, it's been a busy summer for Alfredo Borodowski, a city rabbi who's suspected of trying to pull over other drivers who raise his ire by cutting him off or generally driving too slowly. Though Borodowski has only been arrested once for using a "Triborough Bridge and Tunnel Authority Officer 1338" badge — one authorities have called "totally fake" and which you can see in action here — the rabbi may have been behind at least two other cases around New York City going as far back as April.
PR consultant Peter Moses recognized the rabbi on the local news and realized he'd had a similar interaction with Borodowski between Scarsdale and White Plains:
"He's shouting, 'I'm a police officer, pull over' and he's got this little badge that he's waving at us. I told my wife, 'That's not a police officer.' Then he's out of his car and he's screaming, 'I can arrest you! I can have you arrested!' I said, 'Fine, call the police,' then he storms back to his car and drives off."
While Borodowski was reportedly fired from his position at Manhattan's Temple Emanu-El, he remains on staff at Congregation Sulam Yaakov in Larchmont, which said of their rabbi, "No comment. That's his personal life."
Moses added that he and his wife, who was present during the attempted pull-over back in May, want "the rabbi to get the emotional help he so obviously needs." On that note, Borodowski's lawyer acknowledged the rabbi's "manic" behavior, for which he has previously been hospitalized, saying that his client suffers from bipolar disorder and is expected to plead not guilty in court this week.