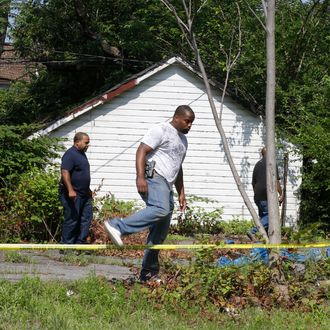 Another horrifying story out of Cleveland, Ohio: 35-year-old registered sex offender Michael Madison was arrested Friday after a body was found wrapped in trash bags in the garage of an empty East Cleveland house. On Saturday, two more bodies, also covered in plastic, were found nearby. The authorities do not know the identities of the victims, all of whom were black women believed to have been killed in the last six to ten days. According to East Cleveland Mayor Gary Norton, Madison, who has not yet been charged in the deaths, has indicated that he was inspired by Cleveland serial killer Anthony Sowell, who was convicted in 2011 of murdering eleven women and hiding their bodies in his home. "He said some things that led us to believe that in some way, shape, or form, Sowell might be an influence," Norton said. (A man who was recently incarcerated with the suspect told Cleveland CBS affiliate WOIO that Madison "respected" Sowell.)
The police continued to search the area where the bodies were found on Sunday because, as Norton told the AP, "The person in custody, some of the things he said to investigators made us go back today." Norton also told ABC News that, though Madison lived with his mother several miles from the site of the gruesome discoveries, he was well-known in the neighborhood. "He was a person who frequented the area, and had spoken to and approached multiple women in the area," he said.
This post has been updated throughout.