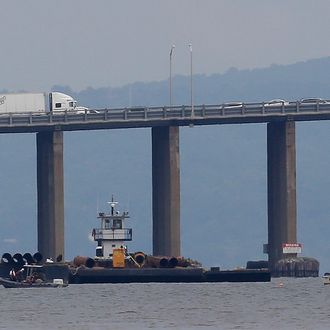 Photo: Julio Cortez/AP/Corbis
A speedboat carrying a bride-to-be, her fiancé, and four friends up the Hudson River crashed into three construction barges near the Tappan Zee Bridge on Friday night. According to the New York Daily News, the bride, identified as 30-year-old Piermont resident Lindsey Stewart, and a second passenger, believed to be her fiance's best man, Mark Lennon, are missing and presumed dead. The remaining four passengers — including the 35-year-old fiancé, Brian Bond — were "seriously hurt" in the wreck.
Rockland County Sheriff chief William Barbera said that emergency crews were still searching for the bodies of Stewart and Lennon, who were ejected from the boat, on Saturday morning. The Daily News reports that "alcohol is being looked at as a potential cause for the crash," though investigators have pointed out that Friday night's weather conditions may have made navigating the Hudson difficult. "[The barges] do have some lighting on them but it was very dark out there last night and very difficult to see [them] in the water," said Rockland County undersheriff Robert VanCura. The wedding was scheduled to take place August 10. "It can't end like this," Stewart's distraught mother told WABC-TV.
Update: CNN reports that authorities have recovered a female body believed to be Stewart's, as well as the 21-foot Stingray power boat.
Update II: The Rockland County Sheriff's office announced that the man driving the boat, 35-year-old Jojo John of Nyack, was charged with vehicular manslaughter and vehicular assault Saturday afternoon. Barbera added that John may have been intoxicated while operating the boat. Meanwhile, the search for Lennon's body was suspended Saturday evening. 
Update III: A body believed to be that of Mark Lennon was found near the crash site.