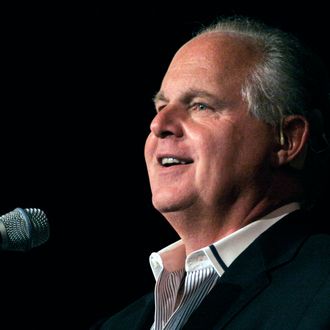 Photo: Bill Pugliano/2007 Getty Images
Cumulus, the broadcaster that brings Rush Limbaugh and Sean Hannity to millions of Americans through the radio stations it owns nationwide, plans to drop both hosts at the end of the year, removing them from its airwaves in more than 40 major markets, Dylan Byers reports at Politico. The station did not confirm the story — a spokesman told Byers, "Cumulus is not in a position to comment about negotiations with talent under contract, no matter what the rumor of the day might be." But after it emerged in May that Limbaugh and Cumulus were at odds over Cumulus CEO Lew Dickey repeatedly blaming falling ad rates on Limbaugh's Sandra Fluke comments, Byers's story doesn't sound far-fetched.
Back in May, it was Limbaugh threatening to leave Cumulus. Now, Byers reports via "an industry source," that the broadcaster plans to drop him and Hannity after it couldn't come to an agreement on costs and distribution rights with their distributor, the Clear Channel division Premiere Networks. "Cumulus is known to drive a hard bargain on costs, and Clear Channel is known to seek top dollar for big names," Byers notes. He also points out that Cumulus and Clear Channel have, in the past, come close to a failed deal. "But the source told POLITICO that Clear Channel was unlikely to reduce the cost for distribution rights to a level that would satisfy Cumulus."
So who would replace Hannity and Limbaugh if Cumulus drops them? Byers suggests Cumulus would bring in some of its existing talent in the form of Mike Huckabee, Mark Levin, and Michael Savage. Cumulus has already tried to position Huckabee as a "safe" alternative to Limbaugh: A conservative commentator who wouldn't call people "sluts" on air. And it signed a deal with Savage just last fall to distribute his show, whose ratings currently trail Limbaugh's and Hannity's, but still beat most of those covered in Talkers magazine's latest analysis.
But don't think a failed deal between Cumulus and Premiere would remove Limbaugh and Hannity's voices from the air altogether. Byers reports that Premiere "is expected to carry Limbaugh and Hannity on stations in many of the markets where they are currently signed with Cumulus, should the negotiations not go through."