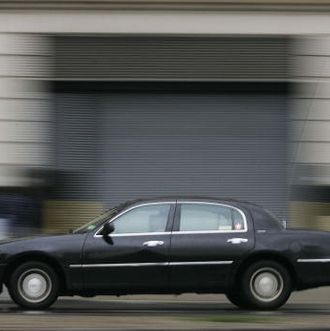 A not unusual, late-night situation turned deadly around 5 a.m. on Saturday, when a livery cab driver refused to allow some drunk people into his vehicle. The New York Post reports that the two would-be passengers — who were identified by NBC New York as 26-year-old Isaac Martinez and a still unnamed 33-year-old friend — had been drinking at a Woodside, Queens bar and stopped by a bodega to pick up some beer at the end of the night. The clerk who sold them a couple six-packs there told the Post, "They were smiling a lot, like they were happy about something," and said the men didn't seem particularly intoxicated. (Meanwhile, New York Daily News sources say they were "highly intoxicated.") Either way, the driver of the Lincoln Town Car they flagged down near 68-10 Roosevelt Avenue didn't want them in his cab, and an argument ensued when they tried to get in anyway, according to the Daily News.
A Post police source says the cabbie "pulled out a wooden bat and smashed his rear window before pummeling the dejected passengers who defended themselves with the bottles of beer they just bought," and a Daily News witness claims he hit the 33-year-old victim in the head "so hard that [the bat] split in two." The driver then used "a long knife" knife to stab the unidentified man, and Martinez was stabbed in the chest when he attempted to intervene. He died after being rushed to Elmhurst Hospital, while his buddy is in stable condition.
Meanwhile, the suspect (who was wearing jeans, a white t-shirt, and white sneakers) sped off after threatening a bystander. The NYPD was still working to identify and locate him as of Saturday evening. A cab driver spokesman, Fernando Mateo, pointed out that the armed man may have just been a lunatic, as opposed to a lunatic cabbie."You see a black Lincoln Town Car, I would even think it's a livery cab driver, but in a lot of cases we have proven that its not livery cab drivers committing these kind of crimes," he told NBC New York. "It's people that pretend to be drivers." Be careful out there
This post has been updated throughout.