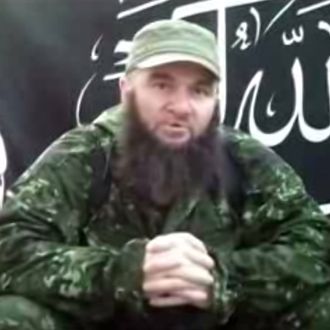 Careening down the luge run might not be the most nerve-racking activity in Sochi next February now that Russia's bin Laden has announced plans to derail the 2014 Winter Olympics with terror attacks.
Dokku Umarov, leader of the separatist Caucasus Emirate, called on his fighters to use "any methods permitted by almighty Allah" in order to prevent the "satanic games" on "the bones of our ancestors." 
The Russian city of Sochi, which was named the host of the games six years ago, was populated by Muslim ethnic groups until they were expelled at the turn of the twentieth century.
Umarov's insurgents probably don't have the manpower or coordination to carry out a large-scale coordinated attack. But their M.O. from previous operations shows that just a few volunteers can wreak massive damage.
In 2010, militants sent two female suicide bombers into the Moscow metro, where they killed about 40 people. The following year, a member of the movement walked into Moscow's Domodedovo airport and set off a bomb, killing more than three dozen people.
In a video released on his movement's advocacy site, Umarov blames the Russian government, saying that they "don't understand kindness, they see kindness as weakness."
Umarov is the Emirate's self-appointed emir, an elusive figure who has been at the top of Russia's kill list for years. He's had more than a couple of brushes with death, all the while orchestrating some of the bloodiest attacks on Russia in recent memory and engaging in a tug-of-war with Kremlin-appointed Chechen leader Ramzan Kadyrov to define an authentic Chechen Islam.
After massive anti-Putin demonstrations at the end of 2011, Umarov announced that Russian civilians, victims of "Putin's Chekist regime," were no longer legitimate targets for attacks by his insurgents. But now he alleges that despite the separatists' cease-fire, Russian forces continue to target noncombatants in the North Caucasus.
"Today we have to prove to the occupants of the Kremlin — not the nation, but the occupants of the Kremlin, those infidels — that our kindness is not our weakness," Umarov says in the video.
Meanwhile, Ramzan Kadyrov, the president of the Chechen Republic, vowed to "destroy" Umarov before the 2014 games, saying that his forces are searching for him "every day." 
"Umarov is a nobody," he said. "And nobody takes his declarations seriously."