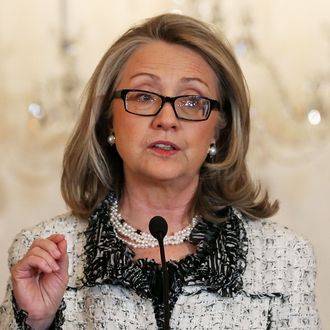 Photo: Mark Wilson/Getty Images
The entertainment world is working overtime to make sure we familiarize ourselves with 2016 presidential frontrunner Hillary Clinton, who's only been a player in national politics for a little over twenty years. CNN announced on Monday that its film division is producing a documentary about Clinton, which will "take a comprehensive look at the professional and personal life of one of the most powerful women in American politics." The film will be produced and directed by Charles Ferguson, who won an Oscar for the documentary Inside Job in 2010, and is expected to run in theaters next year before airing on CNN.
The film is not to be confused with the Diane Lane-starring Hillary miniseries NBC announced two days ago, the young Hillary biopic Rodham, or actual reporting. Politico notes that there's already grumbling about the subjective Clinton projects creating the perception that the networks' election coverage is biased. Both outlets are already trying to deflect the criticism. Allison Gollust, CNN's senior vice president of communications, said, "CNN's editorial side has no role in the production of the film, just as it has no role in any of the films produced or acquired by CNN Films." NBC News political director Chuck Todd tweeted over the weekend, "Just want to get this out of the way now: NBC News has nothing to do w/Clinton mini series on NBC entertainment. So save your complaints."
An anonymous Clinton source bemoaned the networks' attempt to cash in on early 2016 speculation as well. "The media has always known that the Clintons sell papers and raise ratings – but they at least pretended profit wasn't a motive. Now they don't even bother to hide it," the source told Politico. "I don't know if I'm appalled or impressed. Either way, they have some explaining to do on how they're going to manage the conflict between news standards and the profit imperative. But they aren't doing so. I'm not sure they know." If only the media would quit it with the presumably fawning film and TV projects and go back to mercilessly mocking Clinton's hair.