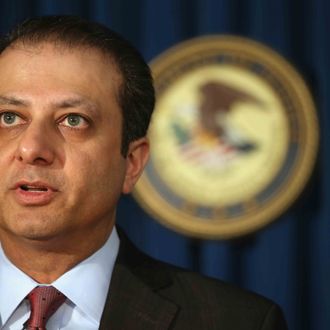 He knows.
Photo: John Moore/Getty Images
For months now, tech-savvy Wall Street ne'er-do-wells have (presumably) been using Snapchat, bankers' favorite disappearing-photo app, to conduct their illicit insider trading. And it (again, presumably) worked great, until this morning, when CNBC's party-pooper-in-chief, Jim Cramer, had to go and warn Preet Bharara, the U.S. attorney who is leading a massive crackdown on insider trading, about Snapchat's usefulness for doing illegal stuff.
Great. Now that Bharara knows what Snapchat is, he'll have an account set up by noon and be snapping photos of handcuffs to hedge-fund traders by one. Thanks a lot, Jim! Next time, make sure to tell him about bankers who stayed out past their curfews too.