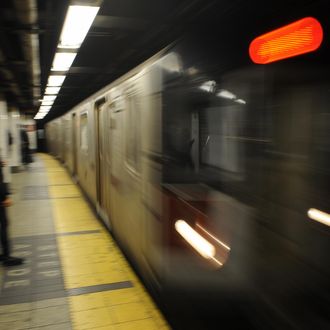 Photo: EMMANUEL DUNAND/AFP/Getty2008 AFP
The Wall Street Journal today tells the heartbreaking story of Darius McCollum, a New York City man with Asperger's, who has been arrested 29 times and spent eighteen years in prison, all because he loves public transportation so much. The trouble started for McCollum when he fell in with subway workers at 12 years old because he was too scared to go to school after being stabbed. In 1981, at the age of 15, "he operated an E train six stops from 34th Street to the World Trade Center without the conductor or passengers reporting anything amiss," and was arrested, which became an unbreakable pattern.
"I love the atmosphere, I love the lights, I love the signals," he told the Journal. "I love the fact that it's moving all the time, 24 hours a day, seven days a week. There's nothing negative I can say about the transit system." McCollum is currently facing up to five years in prison for illegally borrowing a bus, which he used to drive a flight crew from their hotel to the airport.
Update: A 2002 Harper's story by Jeff Tietz, "The boy who loved transit," told McCollumn's tale up to that point and is available here.