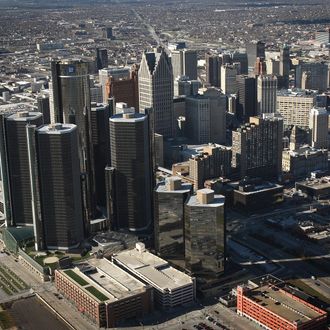 The General Motors (GM) world headquarters building stands tallest amidst the Renaissance Center in the skyline of city's downtown on November 21, 2008 in Detroit, Michigan.
Photo: Spencer Platt/Getty Images
The city of Detroit filed for bankruptcy today, making it the largest city in U.S. history to do so. If you're really into municipal finance, here's the Chapter 9 filing. If not, this video about Detroit's decades-long descent might be more your speed. Either way, it's a sad day for the Motor City, though a bankruptcy proceeding will allow the city to shed some of the billions of dollars of liability it has and get something close to a fresh start.