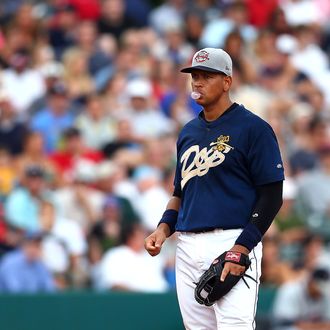 Alex Rodriguez.
Photo: Streeter Lecka/Getty Images
Any day that begins with a prominent local columnist comparing Alex Rodriguez to accused murderer Whitey Bulger promises to be batshit insane. And though we got no definitive word on a possible Biogenesis suspension for the third baseman, today's events in the soap opera that is A-Rod's 2013 season have not disappointed.
Let's rewind for a moment to this past weekend. A-Rod was almost set to come off the disabled list and re-join the Yankees when he felt stiffness in his quad. The Yankees sent him back to New York for an MRI, and the team physician, Dr. Christopher Ahmad, diagnosed him with a Grade 1, or mild, strain.
But A-Rod apparently sought a second opinion from Dr. Michael Gross, an orthopedic surgeon at the Hackensack Medical Center, and Gross went on Mike Francesa's WFAN show this afternoon to declare A-Rod healthy. Gross — who received written permission from A-Rod to discuss the third baseman's health with the media — said he reviewed A-Rod's MRI upon Rodriguez's request. Said Gross: "To be perfectly honest, I don't see any sort of injury there." He'd go on to say that it's possible that a minor injury could be hard to see on an MRI, but since he didn't see anything, and since A-Rod told him he wasn't feeling any pain, "to me, as an orthopedist, that means there's no injury."
Gross also said that A-Rod told him he felt he was "100 percent" fit to play. Clearly, Rodriguez wants the world to know that he's healthy and able to return to the team. This would seem to support the theory that he believes the team is conspiring to keep him off the field. This way, if he's not activated soon, the Yankees would have to answer why a seemingly healthy Rodriguez isn't in the lineup.
The Yankees, meanwhile, are reportedly looking into whether A-Rod violated the collective bargaining agreement by getting a second opinion without informing the club, though via ESPN, "it was unclear what recourse, if any, the team would have other than to force Rodriguez to bear any costs incurred in obtaining the second opinion."
Of course, if there's some sort of conspiracy to keep A-Rod off the field going on here, it's worth remembering that it was A-Rod himself who raised concerns about his quad this weekend, just as his rehab time was ending. Perhaps he was afraid that the Yankees would use this blip as an excuse to keep him off the field even longer? After all, if A-Rod doesn't play this year, insurance would cover up to 80 percent of his salary.
The Yankees could really use even a diminished Rodriguez right now. Their third basemen have been terrible this year, and yet another one was just placed on the disabled list. In theory, A-Rod and the Yankees should be on the same side here. (In theory.)
It's not inconceivable that there's a really simple explanation for what's happened in the past few days: A-Rod may not have been feeling great this weekend, but his minor injury has healed, and now, a few days later, he's ready to play. But even if that's the case, we now have doctors going on WFAN and team officials looking into whether he violated any rules. In other words, it's become a total clusterfuck.