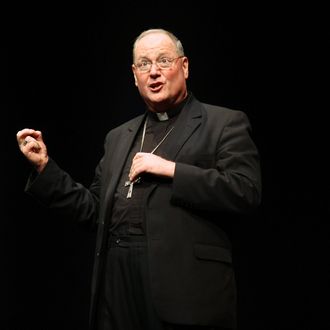 Photo: Neilson Barnard/2009 Getty Images
When Cardinal Timothy Dolan was archbishop of Milwaukee from 2002 to 2009, he was either trying to get abusive priests away from children as quickly as possible, attempting to protect the church from a growing sex abuse scandal, or some combination of the two. On Monday, the Roman Catholic Archdiocese of Milwaukee released 6,000 pages of documents as part of a deal reached in federal bankruptcy court with victims of sexual abuse, who are suing the archdiocese for fraud. The documents offer new details on payments Dolan offered to departing pedophile priests, and reveal that Dolan moved nearly $57 million into a cemetery trust to help protect the funds "from any legal claim or liability." What the documents say about how Dolan handled the scandal he inherited is still open to interpretation.
Dolan certainly doesn't come out looking great, but did repeatedly urge the Vatican to defrock priests who sexually abused children, only to be met with years of silence in some instances. The Wall Street Journal reports that in one case, Dolan's bosses wanted to suspend an admitted sex offender for just ten years, but he pushed for him to be defrocked, arguing that if word ever got out, "our credibility would be seriously damaged." The Vatican barred the priest from ministry indefinitely.
Dolan also approved payments of up to $20,000 for some alleged abusers who agreed to leave quietly. Critics call this a payoff, but the church claims the money was necessary to help the priests transition into secular life. Dolan defended the practice again in a blog post on Monday, writing, "like it or not, bishops do have a canon law obligation to provide basic support like health care and room and board for their priests until they have finally moved on."
The files reveal that when Dolan wrote to the Vatican asking for permission to move millions into the cemetery trust fund, the request was approved in just five weeks. Jeff Anderson, a lawyer representing many of the victims, noted, "These documents show that if they want to move money to protect it from survivors they can act quick as a fox." Dolan countered that establishing a fund for cemetery upkeep was "required by state law and mandated by the archdiocesan finance council."
Dolan said on Monday that he welcomes the trove being made public, as he believes deeply in "the need for transparency and openness." He concluded, "It is my hope that the release of these documents will also help to show how the Catholic Church in the United States has become a leader in dealing with the society-wide scourge of sexual abuse, and help other groups and organizations who are also seeking combat this evil." It seems like that's still quite a way off.