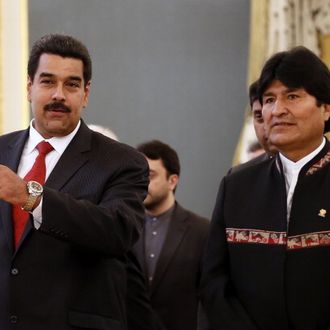 Nicolas Maduro and Evo Morales.
After a string of rejections, a few of Edward Snowden's many asylum applications appear to have been successful. On Friday evening, Venezuela's president Nicolás Maduro offered the fugitive leaker a new home. "As head of state, the government of the Bolivarian Republic of Venezuela decided to offer humanitarian asylum to the young American Edward Snowden," Maduro said, adding that his intention was to "protect this young man from persecution unleashed by the world's most powerful empire."
Critics of Maduro, who came to power after a special election following the death of Hugo Chavez, have said that his asylum offer is just an attempt to distract people from the increasingly dire conditions in Venezuela, which, according to the AP, has "one of the world's highest inflation rates and a shortage of basic products like toilet paper." (It's also a good opportunity for him to lambast the United States, which he has accused of plotting to kill him in the past.) Of course, Snowden isn't really in a position to be choosey, though he could have a second option: Nicaragua's president Daniel Ortega also said on Friday that he would give Snowden asylum "if circumstances allow it," though he did not explain what those circumstances might be.
But Snowden could have some trouble actually getting to Venezuela or Nicaragua, assuming he accepts either invitation. There aren't any direct commercial flights between his current crash pad — Sheremetyevo Airport in Moscow — and Caracas, Venezuela or Managua, Nicaragua, and the usual routes between Russia and those two cities include layovers in Havana, where Cuban authorities might not accommodate Snowden's itinerary. As ABC News points out, "Cuba has an extradition treaty from 1904, but the Castro government could chose to ignore it." However, "U.S. officials have told ABC News they believe the Cubans want nothing to do with Snowden. As evidence, they pointed to the fact that Snowden failed to board previous flights to Cuba, when safe haven in Ecuador appeared to be an option." If Snowden and his supporters rustle up $200,000 or so, they could get him a private plane, but any flight carrying him could have problems crossing the Atlantic. As we learned earlier this week, when Bolivian president Evo Morales's aircraft was grounded in Vienna over claims that Snowden was onboard, certain European countries might not let him make use of their airspace.
Neither Snowden nor the White House has commented on these new developments, but Maduro and Ortega can probably expect some high-level phone calls pretty soon.
Update: Bolivia's Morales said on Saturday that he is "willing to give asylum" to Snowden. "I want to tell those Europeans and North Americans that as a just protest we now will give asylum to that North American who is persecuted by his compatriots," he said in an interview.