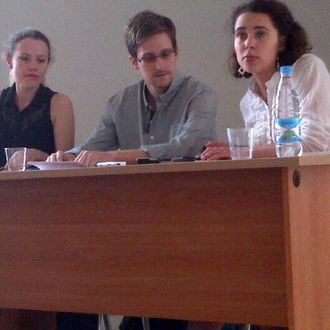 Photo: Tanya Lokshina/HRW
The Terminal reenactor Edward Snowden has been stuck in a Moscow airport since June 23. But despite teasing the possibility of touring Latin America once he gets the necessary asylum paperwork, the world's most wanted leaker may never leave Russia at all. "He's planning to arrange his life here. He plans to get a job. And, I think, that all his further decisions will be made considering the situation he found himself in," said Anatoly Kucherena, a lawyer who's been helping with his case. Snowden will be allowed to finally leave the transit zone once his asylum request is formalized,  and from there he's free to "choose a place of residence — rent a hotel or a flat. [He can] live in any place within the Russian federation," Kucherena told RT.
Almost a month ago, two days after Snowden arrived in Moscow, The New Republic reporter and Russian native Julie Ioffe predicted that Snowden is "going to stay in Russia, just you wait," citing, among other things, "the country's ornery instinct for doing whatever gets in America's way." She is looking more correct by the day.