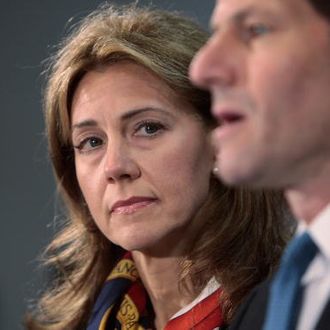 Photo: Chris Hondros/Getty Images
Silda Wall Spitzer's absence from her husband Eliot's campaign has not gone unnoticed, but with the couple's silence on the matter it's been hard to prove or disprove rumors that the pair are so estranged they've been living apart. On Tuesday, the New York Times reported that in fact, they are residing in apartments 18 blocks from each other. "To be honest, she'd probably rather he didn't do it," Wall Spitzer's friend Karen Finerman said of Spitzer's decision to run for city comptroller. It's the clearest suggestion yet that the Spitzers are on the outs and that Wall Spitzer, unlike mayoral candidate Anthony Weiner's wife Huma Abedin, is not pleased with her husband's decision — but it's not the only one.
New York's Chris Smith noticed Wall Spitzer wasn't present as Eliot Spitzer pressed flesh and deflected heckles in Union Square last week. And the New York Post reported back in May that the Spitzers were on the outs, though its "exclusive" report that they were living apart consisted of little more than "sources" saying he'd been spotted at his parents' apartment a lot. Over the weekend, Spitzer told PIX11 that his wife, who signed his petition, approved of his campaign, but he didn't give a definitive answer to the question of whether they were living apart:
Spitzer: She got a bunch of petitions for me, she signed petitions, last week was all about the petition drive.

PIX11: Are you still together as a couple?

Spitzer: Yes

PIX11: Still living together?

Spitzer: You know what? Our private lives are our private lives. I've answered many questions over the past weeks about that. That is appropriate, but at a certain point, I'm running for controller— the controller's job is the pensions.
Silda Wall Spitzer's absence might not be as glaring were it not for the obvious comparison of Huma Abedin, who has been active in Weiner's campaign from the beginning. She appeared in a video announcing his candidacy, funneled in cash as the campaign's top bundler, and made her debut on the campaign trail last weekend.
By contrast, Silda hasn't appeared publicly with Spitzer since he announced he was running. As the Times points out, that absence will become more glaring as the campaign intensifies and "the ally who could most potently make the case to voters that he has been rehabilitated" remains aloof.