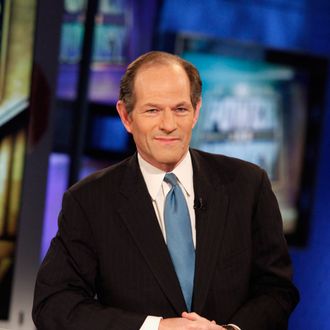 Photo: Cindy Ord/2011 Getty Images
The gods are truly smiling on the New York Post this year. Just six weeks after Anthony Weiner entered the New York City mayoral race, Eliot Spitzer made the bombshell announcement on Sunday night that he's running for city comptroller. (Interestingly, that's the same office Weiner was rumored to have his eye on before making the ballsier bid for Bloomberg's job.) Adding to the drama, to get on the primary ballot, Spitzer needs to collect 3,750 signatures from registered Democrats by Thursday — and he'll be running against Libertarian candidate Kristin Davis, the madam linked to the prostitution scandal that ended his governorship in 2008.
For months, Democrat Scott Stringer, the Manhattan borough president, has been considered the front-runner in the race to succeed mayoral candidate John Liu as comptroller. Christine Quinn has the distinction of being the first to register her opposition to Spitzer's run. "Scott Stringer has been an exceptional borough president with the highest ethical standards," she said. "He has my full support and I will do whatever I can to help him become the next comptroller of the city of New York." A short time later, Bill de Blasio issued a similar statement, minus the not-so-veiled reference to Spitzer's questionable morals. "Scott Stringer is the progressive reformer we need as NYC comptroller," said the de Blasio camp.
While Spitzer skipped the introspective profile on how he's changed following his disgraceful exit from politics, he did tell the New York Times in a telephone interview, "I'm hopeful there will be forgiveness, I am asking for it." He also claimed that the public has been clamoring for his return ("It happens all the time. People who walk with me on the street say, 'People really do want you to get back in.'") and said he wants to transform the comptroller's office. Rather than just monitoring city spending, he hopes to conduct investigations into the effectiveness of government policies. "The metaphor is what I did with the attorney general's office," he said. "It is ripe for greater and more exciting use of the office's jurisdiction."
In an interview with the Daily News, Spitzer denied that he'd decided to run after seeing Weiner shoot to the top of the mayoral race in recent weeks (not to mention former governor Mark Sanford's recent win in South Carolina's special congressional election). "I don't draw conclusions from anyone else's dynamic or situation," he said. Perhaps that's true, but somewhere out there tonight, John Edwards is plotting his next move.