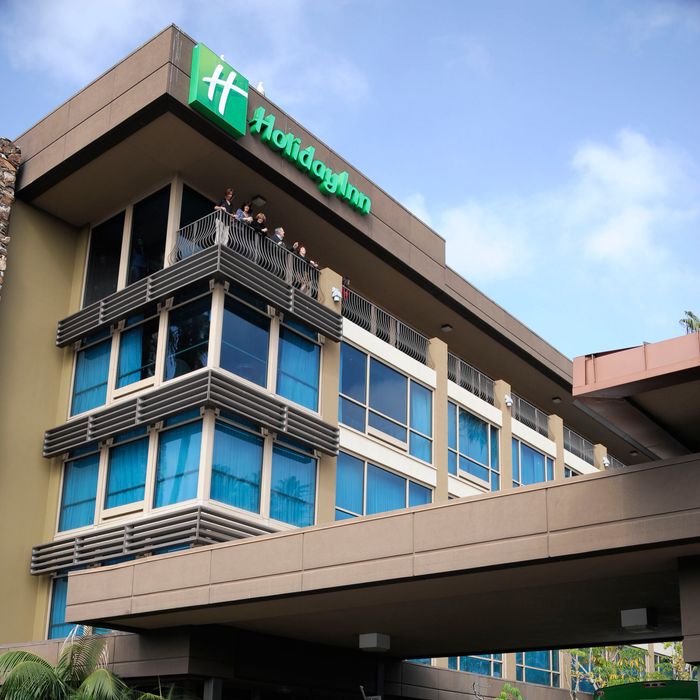 The new Four Seasons.
Photo: Denis Poroy/Getty Images
You knew times were tough for American financiers, with Goldman shrinking its coffee cups, Morgan Stanley capping bonuses, and John Paulson being basically destitute.
But did you know that European bankers have it even worse? Yes, it's true. These days, they're being made to sleep in mid-tier hotels and take public transportation.
According to The Wall Street Journal, French bank Crédit Agricole sent a memo to its employees instructing them on the new rules of the road:
No more taxis in Paris, London or New York during daytime; hotel bills shouldn't exceed €165 a night ($211) in euro-zone countries; when not entertaining clients, restaurant meals should cost no more than €25 a head in the French capital, and flights were highly restricted, said the June 17 email, a copy of which was reviewed by The Wall Street Journal …

Attached to the June 17 email was a table compiling spending limits for major cities. Based on those amounts, the Marriott Hotel in Amsterdam—where the cheapest room comes at €200 a night—would be out.

Instead, Crédit Agricole staff might opt for the more modest Holiday Inn, located outside the city, where standard rates are below the €150-a-night cap applicable in the Dutch capital.
The penny-pinching memo, which was apparently received with "groans of despair," has put bankers in a funk.
"It's embarrassing," said a senior Crédit Agricole investment banker.

"We have to stay in hotels in the city's outskirts and waste hours in the train to go to Amsterdam or Switzerland because we can no longer fly there," he said. "If I'm not taking clients out, I can barely afford an entree and a glass of wine in the evening."
Between this and bonus caps, you're basically better off being a Starbucks barista than an investment banker in the eurozone. (Ha-ha, kidding! Bankers are still incredibly wealthy!) But it does make working in finance sound a little less fun. What's the point of being a banker if you can't expense Cinemax movies while going H.A.M. on the Four Seasons minibar?