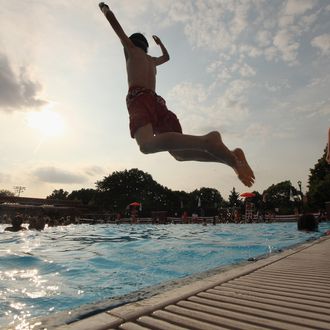 A boy jumps as people bathe on opening day of the newly renovated McCarren Park Pool on June 28, 2012 in the Brooklyn borough of New York City. The historic 37,000 square-foot pool had been closed since 1983 but has been rejuvenated by a $50 million restoration. New York City public swimming pools opened today for the summer.
Photo: Mario Tama/Getty Images
After a whopping ten days of relative peace at Brooklyn's McCarren Park Pool, four teens ages 15 to 19 were arrested on Sunday evening for refusing to stop diving, horsing around, and running on the pool deck. According to A Walk in the Park, the teens forced park employees to chase them, shoved a park supervisor, and refused to be cuffed. The Daily News reports that families have learned to stay near the edges of the pool to avoid the packs of rowdy teens in the center. "Don't go in the middle," said 16-year-old Ruben Vasquez, a friend of one of the arrested teens. "Your kid will get smacked in the face and cause more problems." Consider yourself warned.