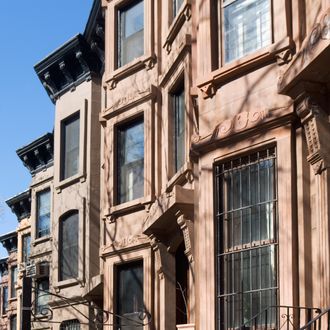 Townhouse for sale — Image by © fotog/Tetra Images/Corbis
Photo: Fotog/Tetra Images/Corbis
Spring is traditionally the time when real-estate inventory loosens up a little bit as sellers wake from their winter slumber and put their apartments up for sale, says appraiser Jonathan Miller. But considering how "insane" and unexpectedly robust the first quarter of this year was, it should come as no surprise that the second quarter looks similarly contrary, too.
The median price of a Manhattan apartment is up just 4.3 percent from last year to $865,000, according to Douglas Elliman's second quarter market report, one of many released today by the city's real estate firms. But, says Miller, who prepared the survey, it was the "most active" quarter since 2007, with the number of sales up 18.8 percent from the same time last year to 3,144. Inventory fell 31.3 percent to 4,795 listings.  "More stuff came on the market" the past three months, says Miller, "but it was essentially absorbed." Per the Corcoran Group, the number of new listings did rise from 4,760 to 5,547 from the first quarter to the second quarter of this year.
Still, Miller hesitates to call the market "recovered," describing it instead as undergoing "a period of better housing stats." The fact that there's hand-wringing over rising interest rates shows there are still worries about the market, he says. But he's optimistic about what interest hikes can bring, including making banks less tentative about lending, which could bring more people into the marketplace, resulting in a normal, balanced market.
Recovery or not, there's no arguing the numbers look rosy. The Corcoran Group found the highest number of contracts signed this quarter (4,450) since 2007. Streeteasy.com found much of the activity coming from entry-level buyers who were responsible for a 30 percent year-over-year jump in contracts for studios (25 percent for one-bedrooms). "They flooded the market to take advantage of low interest rates and [were] driven by the fear that they will be priced out of the market," says Streeteasy's Sofia Song. If you're looking for discounts, there isn't much out there. The total number of properties that have cut their prices dropped 32.7 percent from last year to 2,426. "It's a seller's market," says Song.
Halstead Property and Brown Harris Stevens saw the length of time properties stay on the market fall sharply from 124 days in 2012 to 102 days. And sellers hardly need to negotiate anymore, at least if they're pricing appropriately: They're getting almost 98 percent of their final asking price. Despite this, buyers "aren't getting discouraged," says Halstead Property CEO Diane Ramirez. They're biding their time and moving on if sellers don't commit, rather than offering whatever it takes to get a deal done. "It's lesson learned" from the last boom and bust, she says. "There's always something else. It doesn't mean they're hesitant buyers. [They're] just smarter consumers."