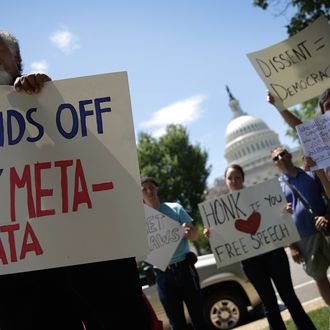 A protest against the NSA's surveillance programs in Washington D.C. on June 13, 2013.
Photo: Win McNamee/2013 Getty Images
As Edward Snowden mulled his various asylum offers on Sunday, there were some new developments regarding the government-spying programs he exposed. The New York Times explained how the Foreign Intelligence Surveillance Court "quietly become almost a parallel Supreme Court," and The Wall Street Journal reported that the FISA court has expanded the meaning of the word "relevant" to justify the collection of vast amounts of Americans' data under the Patriot Act. Now that definition may be challenged in the real Supreme Court, as a privacy rights group plans to file an emergency petition on Monday asking the court to stop the NSA's collection of Americans' phone records.
The 11-member FISA court was created in 1978 to prevent wiretapping abuses by the government, but its powers were expanded six years ago as part of an effort to provide judicial oversight of intelligence operations. Since then, the court has handed down decisions that shaped the government's surveillance powers, though it only hears the government's side of the case, appeals are rare, and the vast majority of its rulings are secret.
Sources familiar with the classified rulings tell the Journal that in the mid-2000s, the FISA court began to reinterpret the word "relevant," allowing the NSA to collect phone information from most Americans. The Patriot Act allows to FBI to collect "tangible things," such as "records," from businesses if they're believed to be "relevant to an authorized investigation" into foreign intelligence activities. Based on the idea that investigations into national security threats are different from regular criminal investigations, the FISA court has set precedents on privacy issues that are broader than those established by the Supreme Court. Thus, bits of phone data from innocent Americans may be "relevant" to a terrorism investigation in bulk.
While there have been several lawsuits filed as a result of Snowden's leaks, the Electronic Privacy Information Center says their emergency petition is the first to challenge the FISA court's authority to sanction the NSA's collection of phone records under the Patriot Act. Members of the group told the Times that they had no choice but to go directly to the Supreme Court, since they can't challenge the surveillance program in the FISA court, and no other court in the country can review its secret rulings. The group argues in its petition that the FISA court "exceeded its statutory jurisdiction when it ordered production of millions of domestic telephone records that cannot plausibly be relevant to an authorized investigation."