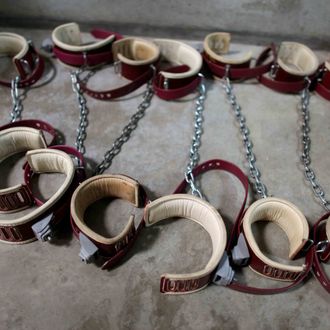 In this photo, reviewed by the US Military, aleg shackles pictured on the floor at Camp 6 detention center, at the US Naval Base, in Guantanamo Bay, Cuba, January 21, 2009. The Guantanamo Bay war crimes court came to an abrupt halt Wednesday as military judges granted US President Barack Obama's request to suspend proceedings while he reviews his predecessor's strategy for prosecuting terrorists.
Photo: Brennan Linsley/AFP/Getty Images
"Rather than the Quran, the book that is requested most by the [high-value detainees] is Fifty Shades of Grey," says Democratic congressman Jim Moran, following a tour of Guantánamo. We guess being punished in shackles is something they can relate to.