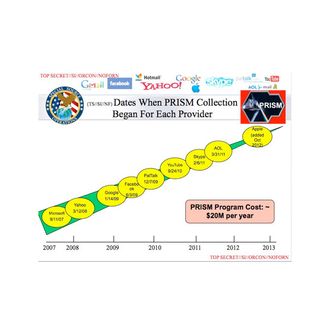 They can still read about PRISM at The Post.
In its pursuit of "network hygiene," the U.S. military has blocked The Guardian's website for members of all branches serving overseas, citing classified information the paper published when it reported on the NSA's collection of Americans' Verizon telephone records and Internet data. Last week, the Army said it was blocking access to the paper's sensitive reporting, but now the block has expanded to the entire publication for U.S. military computer networks overseas. The justification is the same: The Department of Defense wants to keep classified information off unclassified networks.
Just because a piece of classified information has been published doesn't automatically declassify it, Army spokesman Lt. Col. Steve Wollman told The Guardian's Spencer Ackerman. He said U.S. central command, which issued the block, "is among other DOD organizations that routinely take preventative measures to safeguard the chance of spillage of classified information on to unclassified computer networks, even if the source of the information is itself unclassified."
Interestingly, the military places no restriction on access to the Washington Post, which also published classified information about the PRISM Internet spying program. Ackerman asked Wollman why that was, he wrote, but Wollman didn't respond to the question. The so-called theater-wide block applies to anyone stationed in central command's area of operations, including the Middle East, South Asia, and its Florida headquarters.