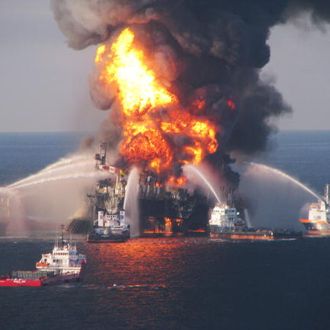 Photo: U.S. Coast Guard via Getty Images
Halliburton on Thursday became the third company to plead guilty to a criminal charge in relation to the 2010 Gulf of Mexico oil spill, when it admitted to destroying evidence in the case. The company agreed to three years' probation and a $300,000 fine, and said it would continue to cooperate with the criminal investigation into the explosion of the Deepwater Horizon drilling rig, and subsequent massive oil spill, Reuters reports. The guilty plea puts Halliburton in company with well owner BP and rig owner Transocean, which have pleaded guilty to other charges in the spill, and paid $1.26 billion and $400 million, respectively.
Halliburton was responsible for the concrete seal that was meant to prevent the deep-sea well from spewing oil into the gulf, but failed. The evidence Halliburton admitted to destroying was a series of concrete test results "that showed 'little difference' between the number of devices Halliburton said was needed to center the cement casing in the well at the heart of the disaster and the number well owner BP installed, according to court papers," CNN reports. BP has sued Halliburton separately, alleging it destroyed the test results.
Halliburton's guilty plea "may indicate a softening of their position" as the government and others seek civil penalties, Tulane law professor Edward Sherman told Reuters. BP, for its part, didn't comment on the guilty plea. But somewhere in Iraqi Kurdistan, Tony Hayward is laughing harshly and vindictively.