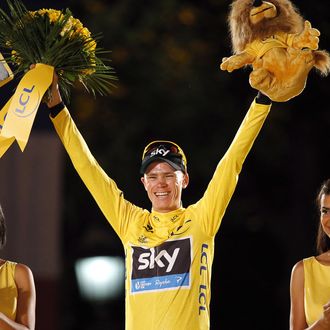 Chris Froome.
Photo: JEFF PACHOUD/AFP/Getty
Well, the 100th Tour de France is over. (I know, you're devastated.) But, really, the centennial edition of the world's oldest cycling race had plenty of thrilling moments, from the first-ever twilight Tour finish last night in Paris, to Kenyan-born Brit Chris Froome's dominant performance, to an unknown 23-year-old Colombian who may well be the most exciting newcomer in years. (And that's to say nothing of the crashes and the crazy fans.) Here, some superlatives from a memorable Tour.
Biggest, Most Ridiculous Fuck-Up
This has to go to the combined idiocy that led to a giant team bus getting stuck under scaffolding on the Stage 1 finish line, dangerously blocking it, as a gang of sprinters hungry for a stage win was bearing down. Credit for making it happen goes to both the Orica-GreenEdge team bus driver (who was late getting to the finish line) and Tour organizers (who lowered the finish line scaffolding before all the buses had cleared the road). In a panic, the Tour organizers moved the finish line back two miles, then deemed that too dangerous, and had to move it back to the original line, with word spreading among riders like a game of telephone moments before they were supposed to get ready to sprint. Chaos ensued:
Most Impactful Crash
In the confusion surrounding the finish line switcheroo and re-switcheroo on Stage 1, a huge crash took out pretty much every major sprinter in the Tour, and in particular left two of the world's top sprinters, Mark Cavendish and Peter Sagan, downed and bloodied. Sagan went on to win the green points jersey for sprinting consistency, but Cavendish seemed off for most of the rest of the Tour, winning only two stages. Two-time TdF champ Alberto Contador was caught in that crash, and also never seemed quite on form this year. Did the crash hurt? It didn't help.

Worst Fan
That would be the one who doused Cavendish with urine during the Stage 11 individual time trial. This was in apparent retaliation for Cavendish's apparent elbowing of Dutch sprinter Tom Veelers in the previous stage, sending Veelers crashing to the ground. (Cavendish was cleared of wrongdoing.)
Second-Worst Fan
The guy who was so annoying that yellow-jersey-wearing Chris Froome punched him out of the way.
Best Fan Ever
The shirtless, shoeless man running up Mont Ventoux on Bastille Day with a full-size hog under his arm.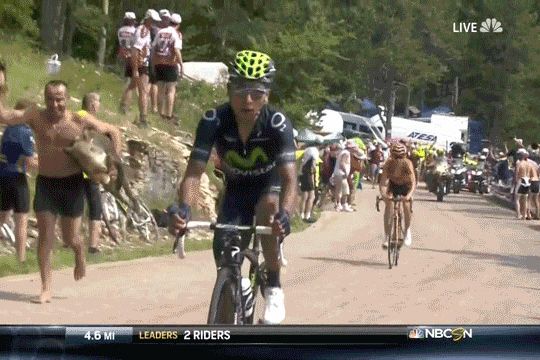 Most Machiavellian Geniuses
Those would be the Tour organizers who designed the TdF route like it was the Hunger Games arena, made to kill off cyclists one by one. They kicked off by visiting gorgeous Corsica for the first time, spending a full three days trekking through its steep hills during a part of the race that has typically been known for flat warm-up days and sprint wins. The Corsican hills were so ill-suited to the sprinters that by the end of Stage 2, Marcel Kittel, who'd been wearing the yellow jersey, was eighteen minutes back and in 169th place. The brutally hard route also included an exhausting two days in the Pyrenees, followed by four days in the Alps, and not one but two ascents up the incredibly hard Alpe d'Huez in a single day.
Most Unfair Moment
Possibly the saddest moment in the Tour came early on in the Stage 4 team time trial when American Ted King, riding in his first Tour, got eliminated for finishing just seven seconds over the time limit. Never mind that King was riding slow owing to a shoulder injury sustained in the aforementioned Most Impactful Crash during Stage 1, and that he had to ride a road bike instead of a more aerodynamic time trial bike because he couldn't put his shoulder into a tuck without a lot of pain. Or that the time trial had the fastest average speed ever for the TTT, making the time limit King had to meet (within 25 percent of the winning team's time) that much more difficult to reach. King begged the Tour organizers to have some sympathy: His family had flown out that day to France to cheer him on and the travel had been difficult, since his father had a stroke ten years ago. "I'm crying on the inside," King said the next day after he showed up at the start line and organizers refused to let him ride.
Breakthrough Sprinter
Marcel Kittel was the No. 3 sprinter in the world going into this Tour. The 25 year-old German is now definitively No. 1. His run began by winning that chaotic Stage 1, and he went on to win the controversial Stage 10, as well as Stage 12 and the final sprint on the Champs Élysées. Almost all of his wins seemed to come directly at Cavendish's expense, making the changing of the guard even more obvious. Cavendish, meanwhile, graciously declared Kittel "the next big thing."

Best Wingman
Froome owes his win in large part to his right-hand man on Team Sky, Richie Porte, who hauled him up basically every mountain on this route. When Froome bonked on Alpe d'Huez, it was Porte who had to drop back to fetch him the power gel that would raise his blood sugar, and Porte who stayed with Froome, pushing him, to make sure he didn't lose too much time. It was Porte who rode at a pace that destroyed the rest of the field on Mont Ventoux and paved the way for Froome's stage win. Porte worked so hard for Froome on Stage 8, when Froome won the yellow jersey, that Porte fell apart on Stage 9, losing eighteen minutes and dropping from second place. He never recovered; he finished in nineteenth place, nearly 40 minutes back. But he'll be a rider to watch when he gets a chance to have someone pulling for him.
Breakthrough Mountain God
23-year-old Nairo Quintana may be the single best thing to come out of this year's Tour: a cycling hero whom the masses can root for. Five-foot-five and constantly cheerful, Quintana grew up poor in Colombia riding a used mountain bike. This was his first Tour, and he just seemed happy to be there. He'd been told to take a leadership role by his team, but seemed unsure he'd deliver. "I told them they would have to forgive me should my legs fail, because the Tour is so fast and the stages, so long," he said. One can never tell in cycling, but there seems to be plausible evidence to suggest that he rode without doping. He trains at 9,200 feet in the Andes, where his family lives, and a lot of hard work at high altitudes paid off: He held his own impressively against Froome on Mont Ventoux and never really relinquished time except on the time trials, which just aren't built for small guys. Then, on the penultimate stage, he got his first stage win, vaulting into second place overall, pushing Alberto Contador off the podium and winning both the white jersey (for the best young rider) and the polka-dot jersey (for King of the Mountains). Again, he's only 23. Someone put him in a wind tunnel to improve those time trial skills and we may have a future champion for years to come.

Most Impressive Performance, Period
Chris Froome took the yellow jersey in Stage 8 and kept it for fourteen days, despite constant setbacks and assaults from his rivals. When all his teammates faltered the next day, leaving Froome isolated, he held in there and maintained his lead. And he killed it on the time trials. But most impressive was his historic stage win on Mont Ventoux, where he put the hammer on the only man able to keep up with him, Quintana, passing him for the stage win and effectively eviscerating the rest of the field for good.

He's also, of course, been constantly hounded with doping questions in the French press — questions that haven't gone away now that the Tour is over. He was so strong that armchair regulators, unsatisfied with cycling's governing body's ability to suss out doping, have been crunching the numbers. Their findings, via the Times: "The sports scientists and the journalists who analyzed Froome's data carefully put it this way: the rider's performances were in the realm of the humanly possible. And that was the best Froome and Sky could hope for."