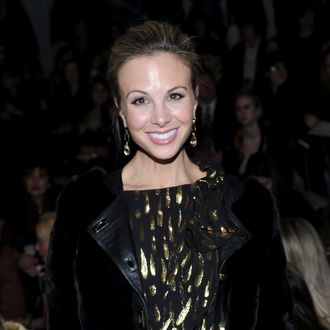 Photo: Jason Kempin/2011 Getty Images
Fox News is reshuffling its blonde news anchors, creating an opportunity for Elisabeth Hasselbeck to fulfill her destiny after a decade as The View's resident Republican. The network announced on Tuesday evening that Hasselbeck is joining Steve Doocy and Brian Kilmeade as the host of Fox & Friends, and Wednesday is her last day at The View. She'll be taking over for Gretchen Carlson, who's getting her own hour-long daytime show, filling the void left by Megyn Kelly when she heads to prime time after finishing maternity leave. "I have been a long-time fan of Fox & Friends and am excited to be joining their team in September as it is an honor to call the Fox News Channel my new television home," said Hasselbeck in a statement.
Back in March, there were rumors that Hasselbeck's contract with The View wouldn't be renewed, which ABC quickly denied. Supposedly she's leaving the show on good terms. ABC released a statement wishing Hasselbeck luck, noting "She stood behind her political views even if they were not the most popular opinions at the table never shying away from voicing a difficult question." Barbara Walters, the show's executive producer, issued her own aquatic-themed well wishes. "When Elisabeth survived Survivor, we wanted to make sure she would stay afloat," said Walters. "We have had 10 wonderful years with her and she will now be swimming in new waters. We will miss her and wish her everything good."
Walters and Joy Behar announced recently that they'll be leaving The View within the next year, so it appears Whoopi Goldberg and Sherri Shepherd are the only remaining co-hosts. Jenny McCarthy and Brooke Shields are reportedly being eyed to join the panel, but frankly we're more excited about the comedic opportunities. The only thing that could improve SNL's Fox & Friends skit is Kristen Wiig returning to reprise her Hasselbeck impression.