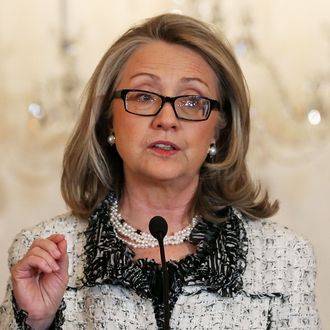 Photo: Mark Wilson/Getty Images
While it's not exactly surprising that people want to hear Hillary Clinton speak, the specific numbers are certainly enough to make most people regret their career choices. The New York Times and the Washington Post both report that Hillary Clinton commands a fee of $200,000 (not including expenses such as air travel and hotels) to address groups interested in hearing charming stories about Chelsea, Bill, and her late mother, Dorothy Rodham, opinions on audience-appropriate policy issues, and what the Times describes as "pithy reflections and Mitch Albom-style lessons from her time as the nation's top diplomat" (for example, "Leadership is a team sport").
To put Clinton's fee in perspective, the Post points out that speeches by George W. Bush and his former secretaries of State Colin Powell and Condoleezza Rice go for between $100,000 and $150,000, while Mitt Romney and Tim Pawlenty received "much lower five-figure fees" back when they were presidential hopefuls. In fact, the only political figure paid more to talk to people than Clinton is her husband, whose speech-making haul was $17 million last year, according to the Times. As a couple, the Clintons have earned more than $100 million since Bill left office.
In the six months since she gave up her job as secretary of State, Clinton has delivered or scheduled at least fourteen paid talks, with audiences ranging from the American Society of Travel Agents, the Economic Club of Grand Rapids, an Atlantic Council gala (where she was introduced by Henry Kissinger), the American Society for Clinical Pathology, Citizens United for Research in Epilepsy (a nonprofit founded by David Axelrod's wife, Susan), and an investor meeting of private equity firm KKR. (She has also done a number of unpaid appearances, which tend to be related to her Clinton Foundation advocacy work for women and girls.)
Of course, Clinton doesn't make herself available to just anyone who asks, and that's not just because the high demand for her speechifying services means she can afford to be choosy. With a 2016 presidential run a strong possibility, Clinton has to avoid groups that might strike voters as "controversial" in a few years. Tim Miller, the executive director of conservative PAC America Rising, told the Times that he and his cohort are "starting immediately to monitor" Hillary and other possible Democratic contenders to "collect, tag and characterize their speeches so we can hold them accountable when the campaign begins in earnest." On the other hand, these appearances are a good way to prepare for the campaign trail. As Democratic consultant Tad Devine explained, "It's the perfect opportunity to deliver a message of your choosing to who you want, to reach a broad audience and to get paid for it." Nice part-time work, if you can get it.