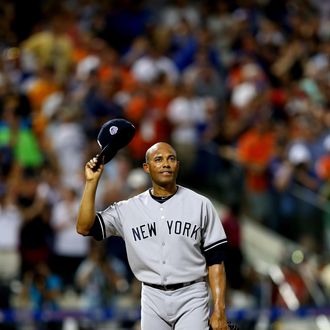 Mariano Rivera.
Photo: Elsa/Getty Images
Most of the big ovations during player introductions at last night's All-Star Game were reserved for men with a connection to the Mets organization: David Wright, Matt Harvey, Terry Collins, Carlos Beltran, and Davey Johnson. The other was reserved for Mariano Rivera. And once Harvey and Wright had been replaced by subs, the night belonged to Rivera, who pitched a scoreless eighth inning and won Most Valuable Player honors.
Rivera, who's been on something of a farewell tour of major-league ballparks since announcing his retirement this spring, entered the game in the eighth inning to a standing ovation, inspiring Fox's Tim McCarver to recite Metallica lyrics on national television. (This really happened, and it was magical.) Rivera didn't get the save, because Jim Leyland didn't want to take the chance and save him for a bottom of the ninth that could potentially not happen. But he pitched a 1–2–3 inning to improve upon his already incredible All-Star numbers. His final total, via ESPN: nine innings pitched, one (unearned) run, five hits, five strikeouts, no walks, and a record four saves.
Would Rivera have won the MVP award for getting a hold if he wasn't the Greatest Closer Ever, pitching in his final All-Star Game? Probably not. But the brilliance of Rivera is hard to capture in a single appearance. The true greatness of Rivera is his consistency — the way he's built a Hall of Fame career an inning or so at a time. (This infographic represents that consistency nicely.) And so if last night's award — and last night, in general — was a way for the league to honor Rivera for his body of work, then good for them.
Few players — and even fewer Yankees — ever find themselves on the receiving end of such universal praise. He's as respected a player as there is in baseball, even by fans of rival teams. The Mets fans in attendance last night need not feel dirty for cheering for someone in a Yankees jersey in this case. And though Rivera will have many more good-byes in the second half of the season (and possibly beyond), this was a chance for the league to celebrate him on a big stage. To win the MVP award last night — particularly in a close game with no other obvious candidate — he just had to do his job in his one inning of work. He did. He usually does.