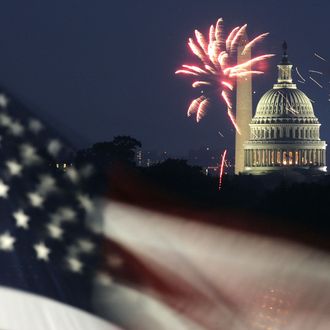 Thanks to sequestration, the Fourth of July is going to be a good bit less festive this year, particularly if you happen to live on or near a military base or are an air-show buff. As the Washington Post reported this week, politicians' dire predictions have mostly not come true, but over the long holiday weekend, federal cutbacks will be especially visible as, with the military subject to across-the-board cuts, bases have been forced to scale back or cancel their Independence Day celebrations. 
These are just a few of the ways sequestration is affecting Independence Day celebrations across the country:
In an interview with the Associated Press, Brandy Rhoad Stowe, wife of a master gunnery sergeant, lamented that Camp Lejeune Marine Corps Base in North Carolina was forced to scale back its annual festivities, at a savings of about $100,000. "I know fireworks might seem silly to other people," Stowe said. "But what is the Fourth of July without fireworks?" She added, "It's like the Grinch stealing Christmas." (According to several conservative bloggers, it's more like "Obama Cancels Fourth of July Celebrations for Troops" while taking an unnecessary African "vacation.") 
Cowpens National Battlefield in South Carolina saved $31,000 by canceling its annual fireworks show. Instead, the park will host battlefield tours, weapons firing demonstrations, and a concert by a community

 

band.
Bristol, Rhode Island's Fourth of July parade usually kicks off with a flyover by the Air Force's Thunderbirds flight demonstration team, but this year it will be performed by two small private planes

 

instead.
Every year boaters travel through the lock at Old Hickory Dam and down the Cumberland River to watch the fireworks show in Nashville, but since the

U.S.

Army Corps of Engineers can't offer overtime, the lock will close half an hour before the fireworks start. "I think you're going to have a bunch of stranded boaters downtown," said Angela Bagsby, the owner of Black Jack Cove Marina in Old Hickory. Those who don't want to spend the night on the water can watch several smaller fireworks shows closer to

 

home.
North Carolina's Fort Bragg canceled its entire Independence Day celebration. A spokesman explained, "It was kind of unreasonable to expect that we would pay that much money in overtime when we were also staring down the potential for furloughing those workers." However, a soldier stationed in Fort Bragg won a Fourth of July party in a contest, so a fireworks show with entertainment and food vendors will be held nearby in

 

Fayetteville.
Fort Jackson in South Carolina will have its usual fireworks display and music by the 282

nd

Army Band, but it's "Torchlight Tattoo" featuring a cannon salute to each state has been called

 

off.
In

D.C.

the televised A Capitol Fourth program and fireworks display will go on as planned, so America will not be deprived of patriotic performances by Barry Manilow and American Idol Scotty McCreery. A smaller concert on the Washington Monument grounds has been canceled, and visitors will suffer the indignity of being encouraged to clean up after themselves. The National Park Service is postponing trash pickup on the Mall until Friday to avoid

 

overtime.
While the cancellations are definitely a "bummer," as Stowe put it, people seem to have found ways to make do. Many will likely settle for watching the neighbor violate a variety of laws with his own backyard fireworks show instead.