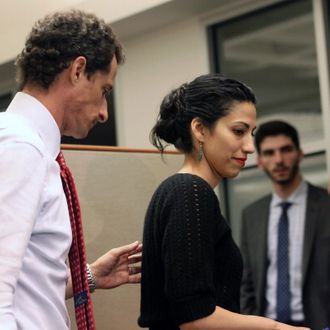 Photo: John Moore/Getty Images)
To many, part of the fascination with Anthony Weiner's repeated scandals is the almost defiant devotion of his wife, Huma Abedin, who appeared with him during his press conference Tuesday and defended her decision to stick with him in an essay in Harper's Bazaar. In private, she wasn't always so steadfast in her loyalty, friends told The Wall Street Journal and New York Daily News on Wednesday. "When she found out, she was furious. She was furious, and she thought long and hard about leaving," one source told The Journal. "She's not fine and she's not in good spirits," another told the Daily News. And her spirits may have reason to fall even farther: As The Journal points out, his X-rated chats with Sydney Leathers probably weren't his only post-resignation dalliances.
"Barbara Morgan, a spokeswoman for Mr. Weiner, confirmed Wednesday that Mr. Weiner engaged in multiple online conversations with multiple women after he resigned from Congress." Weiner pointed out on Wednesday that he'd warned us during the first phase of the scandal that there were more lewd messages out there. But the revelation of a penis photo and graphic messages was "more lurid than what spilled out two years ago," New York's Chris Smith wrote. And who knows how graphic the next revelation might be?
Hopefully Abedin does. From what her "friends" shared with The Journal and Daily News, and from her vulnerable appearance at the press conference Tuesday, it does not seem like she would take kindly to any surprises. As one Abedin acquaintance told The Journal, "if she had found out yesterday she wouldn't have been standing there."