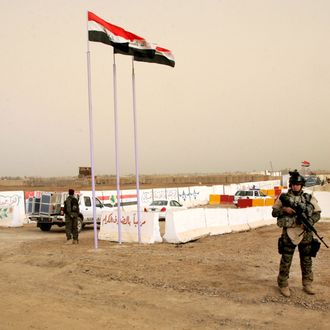 Photo: Wathiq Khuzaie/2009 Getty Images
As many as 500 prisoners — some of whom were described as top members of Al Qaeda awaiting execution — escaped from Iraq's Abu Ghraib prison during a raid over the weekend, though the severity of the situation was not clear until Reuters reported on it this afternoon. Suicide bombers driving cars full of explosives reportedly blasted their way into the jail on Sunday night. Fellow militants armed with guns, mortars, grenades, and suicide vests then fought with guards and, eventually, security reinforcements sent from Baghdad. The authorities did not regain control of the area until military helicopters arrived the following morning.
A similar attack was launched at the same time at another prison, located in Taji. The guards there were able to prevent a jailbreak, though Iraqi lawmaker Hakim al-Zamili told the AP that the Taji assault was believed to have been intended as "a distraction" from the incident at Abu Ghraib:
Police reported 15 soldiers and 13 others wounded in the Taji attack, along with six militants. Ten policemen were killed and 19 others were wounded in Abu Ghraib, and also four militants, according to police and hospital officials, who all spoke on condition of anonymity because they weren't authorized to release the information.

A total of 21 prisoners were killed and another 25 wounded during the attacks, according to Justice Ministry spokesman Wissam al-Firaiji.
An unnamed security official told Reuters that the incident was "obviously a terrorist attack carried out by Al Qaeda to free convicted terrorists with Al Qaeda." Meanwhile, an Interior Ministry official told the AP that their initial investigation "suggests the insurgents had inside help." They're now looking into who gave the orders to allow the prisoners to gather in the Abu Gharib yard for a meal, which seems to have made it easier for them to leave once the violence began.