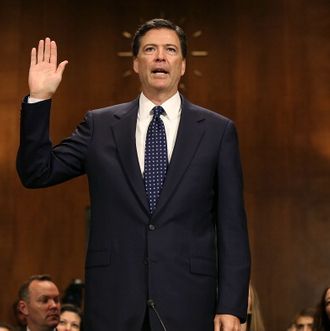 Photo: Mark Wilson/Getty Images
It took 38 days, but the U.S. Senate finally confirmed James Comey as FBI director, after President Obama nominated him on June 21. Comey is best known for blocking the Bush administration's attempt to implement warrantless wiretapping by intercepting an administration visit to then-Attorney General John Ashcroft to have him approve it while he was sick in the hospital. But it was concern over another form of surveillance that held up the Senate's vote, which wound up confirming Comey 93 to 1. Sen. Rand Paul had placed a hold on Comey's nomination pending answers to questions he had sent the bureau over its use of drones over U.S. soil.
Paul, who cast the lone "no" vote against Comey's appointment, was not thrilled with the answer he got, which basically said the government doesn't need a warrant for aerial surveillance, though it doesn't plan to use drones for "general surveillance" anyway. "However, given the fact that they did respond to my concerns over drone use on U.S. soil, I have decided to release my hold on the pending FBI director nominee," Paul said. So while he voted against Comey, he'll be taking a pass on filibustering this nomination.