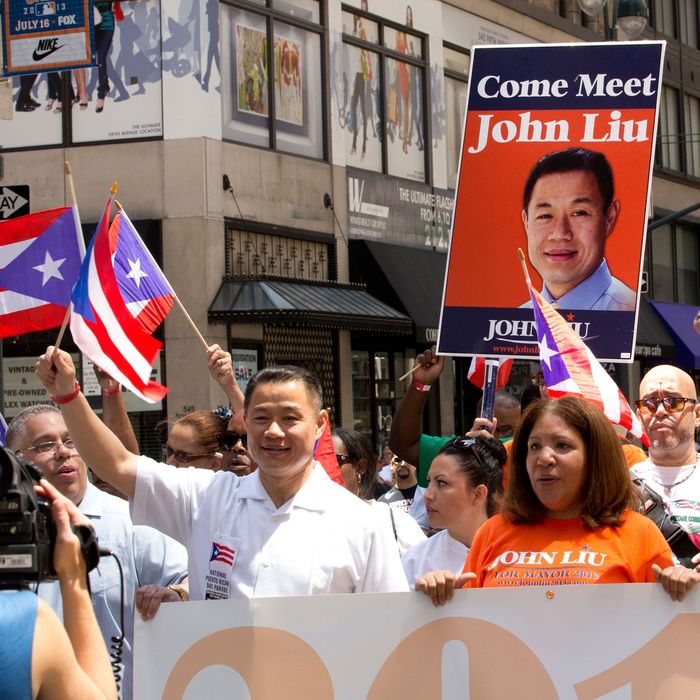 John Liu treats campaigning like an extreme endurance sport.
Photo: Janet Mayer / Splash News
Aside from the lurid, self-punishing candidacy of Anthony Weiner, the mayoral race this year has left the public imagination largely unmoved. We have, however, seen several mini-narratives emerge to preoccupy political junkies before the real contest begins: Is Christine Quinn's temper too volcanic for City Hall? Is the "hipster" candidate, Bill De Blasio, too tall to serve as mayor? And is Bill Thompson too quiet?
Then there's candidate John Liu. Despite the public polls placing his mayoral chances in the single digits — 6 percent at last count — the city's current comptroller has earned a reputation for holding to a campaign schedule so grueling that even New York's jaded political press corps has gawked. The New York Times Magazine described him as the race's "Energizer Bunny." "You're outworking everybody," NY1's Errol Louis gushed to him during an interview this week.
In a city not known for its layabout spirit, what does it take for a politician's work ethic to draw such attention? Well, for starters, it means hitting a dozen or more campaign events per day when the rest of the field tends to satisfy itself with just a few.
"I've seen him in action a couple of times this cycle and it's just astounding," said longtime city politics observer Doug Muzzio, a political science professor at Baruch College. "He never stops — it's truly unbelievable. I would probably say unprecedented." He never stops despite a lingering cloud of scandal: In September, the same month as the Democratic primary, sentences are set to be handed down in a case where two Liu associates face serious prison time on charges of campaign finance fraud. (Liu has denied wrongdoing or knowledge of the crimes.)
Daily Intelligencer wanted to see how a full day on the trail looks and feels for a man who stakes a claim to being the hardest-working campaigner in the history of New York. Liu agreed to let us be his body man for a day on recent Saturday (June 29). We would meet him at his front door early in the morning and part ways only when he got to back to his doorstep, at some point late that night. We would ride along in his city SUV, eventually covering 90 miles of streets and expressways, turning up at fifteen separate events — Weiner logged just four stops the same day — and try to keep up with every handshake, shared meal and speech.
What did it look like? In the simplest sense, Liu lived up to his reputation as a campaign-trail ironman. But beyond that, he also made a consistent case for an election narrative beyond the numbers. According to Liu, one reason he polls so low is the surveys don't sample his base: namely, immigrants whose shaky English can't see them through 30 minutes of political questions asked by phone. And as much as it yields a lesson in tenacity, a day spent with Liu also offers a ticket into a New York City often overlooked by trend pieces and tourists — outer borough neighborhoods where Mandarin, Spanish, or Hindi are spoken as much as English — and where a remarkable number of people seem improbably stirred by a fellow immigrant making a serious run for Gracie Mansion. 
9:18 a.m.: Flushing, in front of John Liu's house
Two plainclothes detectives in a black Suburban pick us up outside Liu's modest clapboard house on a tree-lined, suburban-looking street. Perhaps warming his public-relations engine, Liu shouts compliments to a balding neighbor out tidying the bushes next door. The man waved placidly and continued his trimming.
9:40 a.m.: Fort Greene, at the farmers' market
Liu likes his schedules gap-free, and street events make for easy filler between stops — though in this case, it's a neighborhood far outside his electoral wheelhouse. With his high-and-tight haircut, blue button-down, and pleated khakis, he cuts a contrasting figure among the crunchy stroller-pushers.
"Hello there!" Liu chats up a 22-year-old vendor of organic local mushrooms, her hair done up in a loose bun, who wears necklace that reads, "Zoe." He has a broad square face, still unlined at 46, and an easy smile that he aims at pretty much everyone he meets, including Zoe.
"You guys grow these, or you find them in woods?"
Zoe arches her eyebrows dubiously. She's not having this. "Uhhh, we grow them?"
10:25 a.m.: Gowanus, at the Douglas and DeGraw pool
A local crew from Fox was ready to shoot an interview with Liu at a rally to keep the pool open. But there was a hitch: The kids brought in by the pro-pool activists, presumably to provide a backdrop of joyful swimming, were stuck in a line outside. "We probably should have done this thing after the pool opened," Liu told his indefatigable, pony-tailed assistant, Josie Estrella.
He makes the best of it, and gave the camera an earnest look: "You can clearly see this pool hasn't even opened and people are lining up."
11 a.m.–1:30 p.m., Midtown and Harlem, various stops
We hit a midtown Manhattan meeting with a group of evangelical clergymen, stop in East Harlem to encourage a posse of volunteers gathering signatures to put Liu on the ballot — "I need thousands of signatures!" he tells them — then motor over to 135th Street to a public forum for the mayoral candidates at Harlem's Schomberg Center.
There, the golden-voiced Reverend Jacques DeGraff, pastor at Halrem's Canaan Baptist Church, introduces the candidates. And he rolls out the carpet for a man whose bid for comptroller made him the first Asian American in New York history to win a citywide office.
"John Liu played Jackie Robinson in citywide government," DeGraff says, "And he didn't stop there."
2:15 p.m.: Harlem, inside the campaign SUV
We are doing some Monday morning quarterbacking of his performance at the Schomberg debate. Liu seemed to lose the crowd when he veered into math-geek talk — Liu is a physics major and a trained actuary — about statistical correlations and stop-and-frisk. He leans back in his bucket seat and aims that beaming campaign-trail smile at Daily Intelligencer.
"I try to fight these Asian stereotypes," he says and laughs.
2:23 p.m.–5:45 p.m.: Mad dash across Upper Manhattan and Queens
We undertake the next three hours of campaigning at a pace that feels — to his body-man-for-a-day, anyway — like a dead run.
First, a pell-mell scramble to 135th Street, inside a stifling school auditorium full of ladies from the African American sorority Delta Sigma Theta, to whom Liu announces, "I'm looking for a promotion." He gets a big laugh with an oft-repeated joke about his being "made in Taiwan."
At an LGBT rally at Jackie Robinson — him again! — Park on 148th Street, Liu bounds onto a concrete stage for a quick speech before hastening back toward the truck at something close to a sprinter's pace through a crush of rainbow-flag-waving attendees, somehow managing to shake hands nine times along the way.
We head back to Queens for a brief stop at Liu's political "ground zero," his home neighborhood in Flushing, where he again stops to fire up some volunteers: "Our community has been paying attention to this election for a long time; the rest of the city is going to catch up soon!" He chats with several Chinese-language journalists in attendance, including a heavily made-up young woman in her twenties who works for Sinovision.
"Are you a citizen yet?"
"No," the girl says brightly. "Make me one!" Liu meets this request — marriage proposal? — with a roar of laughter.
When Daily Intelligencer asks about his breakneck pace, Liu quibbles with our use of the word run. "We have run sometimes," he tells us. "That was just fast walking."
5:46 p.m.: Kew Gardens, at a block party
Two more rushed stops in Queens — elderly retirees and a youth basketball game — then we hit a block party where Liu finds a couple dozen families partying in a haze of savory barbecue smoke on a narrow stretch of 125th Street between Hillside and Jamaica Avenues.
Liu is handshaking his way through a small crowd when a gregarious big guy in a disposable chef's hat comes up to him, clutching a picture he just grabbed from inside his house. Angel Torres is his name. The picture captures the moment Torres's wife had met John Liu. They'd had it framed. Torres presses a battered smart phone into Daily Intelligencer's hands and circles a meaty arm around Liu, who grabs him back. The two men grin, holding the framed photograph between them, waiting for us to press the button.
But then Liu is disappearing down a narrow driveway, his arm pulled by a lanky Guyanese man who really wants the mayoral candidate to try his chicken. In the crowded concrete backyard, Liu accepts a plate of marinated drumsticks and handshakes all around.
The host at first refuses to tell us his name. Not for anonymity's sake but because, he says, "It's hard. Too hard."
After two tries, we get it: Bhognariene Prasad. He is 33 years old and works for a company that manufactures school bus mirrors. As we leave, Prasad shouts to Liu, "Thank you to be here, man! We see you on TV!"
On the way back to the SUV, Angel Torres, the framed picture guy, refuses to let Liu pass his without accepting a generous helping of grilled steak.
The moment recalls something one of Liu's volunteers, Clark Pena, 48, told us on 116th Street, to explain why he'd spent his day off gathering signatures for a guy whose name didn't sound very East Harlem.
"Juan Liu, as we say in El Barrio," Pena said, laughing. Pena said it wasn't where Liu immigrated from that counted, it was the fact that he had: "It's a matter of him going through what we're going through. And he made good!"
7:26 p.m.: Grand Concourse, gathering signatures
After hitting a union fund-raiser in Riverdale, Liu's volunteers position us on a gritty corner in the heart of the Bronx. Liu solicits signatures outside a shuttered jewelry store, whose sign advertises an extreme willingness to buy your gold. Every so often — enough times during the stop that it surprises us — somebody sees Liu and totally lights up. Like the twentysomething guy in a crisp new Yankees cap, billowing white T-shirt, and aqua Nikes who shouts when he sees the comptroller and pulls him in for a soul-shake.
"Crazy!" The guy signs Liu's petition, whips his phone out, and shoots a quick video selfie, which he says is for YouTube. "Yo! I'm right here with John Liu!" he shouts to his viewers. "I'm a Democrat and I'm out!"
8:37 p.m.: Flushing, at the first of two banquet dinners
Liu is irritated. The night was scheduled to end before 9 p.m., which is apparently a waste of valuable post-dusk campaigning time.
"We don't know of any night fairs going on?" Liu asks his assistant, Josie, who shakes her head.  "8:45 p.m. is ridiculous."
But calls are made and soon the Suburban is pulling to a stop in the heart of Flushing Chinatown on 39th Avenue. At Mulan Modern Asian Cuisine, in a private banquet room near the back, three dozen well-dressed friends and colleagues are throwing a retirement party for broadcast personality Richard Hsueh, a fixture of Chinese-language radio in Flushing. Hsueh's show was among the first outlets to give Liu airtime during his first run for city council.
When Liu rolls into the room, everyone, guest of honor included, snaps to their feet. They pat his back or touch his shoulder. Half a dozen cell phones appear, recording his progress across the room with video and stills. The display leaves Liu a little self-conscious. "You guys. Really, please, sit down," he says.
9:10 p.m.: Flushing, at another banquet
At some point on our way back to the elevator, Liu is spotted and invited to another event across the hall. Inside a vast chandeliered room, an expat association of Taiwanese college grads — 300 or so people — is having a banquet dinner. Onstage, there are dancers performing. Liu stops at every table to say hello, each time causing the same fawning stir of handshakes, hugs, and camera flashes. Wish for a longer night: granted.
Soon, the music and dance program is halted so the candidate can take the stage. A deep-voiced man in a brown suit and loose tie rallies the room in a full-throated chant that grows loudest as they shout John Liu's name.
Liu takes the microphone. There is something different in his manner here. He now speaks with a high-volume, flushed fervor.
"It's going to be a very difficult path," Liu says. "I will be out there fighting my hardest and I know you will be fighting!"
Hands already clapping in the audience were joined by more.
"Nobody ever said it would be easy," Liu says over the noise. "But nothing you have achieved in America has ever been easy!"
The applause sounds like a thunderstorm now.
9:40 p.m.: Flushing, on the way back to the Liu residence
On the short ride home, Daily Intelligencer grills Liu one last time about the campaign-funds scandal and his chances of making the two-candidate Democratic run-off election — the contest that is likely to determine the next mayor of New York. He sticks to his talking points: Nothing to fear, nothing to hide, I know I can win.
The city will see soon enough whether that is true. Our long day campaigning suggested there are segments of the population where people don't care about the polls or the campaign finance stories and have decided to take Liu at his word — New Yorkers who look at him and think, Hey, that guy could be me.
As we roll up on Liu's house, he invites Daily Intelligencer to ride along with him anytime. We suggest we might need a break before trying again.
Liu isn't impressed. "I mean, this day — it's relatively relaxed," he says. "Tomorrow's going to be more intense than today."