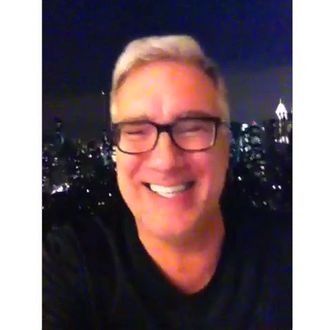 The first step to getting back together with an ex is a fun, casual dinner. Then you wait awhile. That seems to be the strategy almost-unemployable anchor Keith Olbermann is taking with ESPN, where, in the words of one exec, he "didn't burn the bridges … he napalmed them." The Daily News today floats the rumor that the former SportsCenter anchor, who has a temporary deal to cover some baseball for TBS, is in "very fluid" talks to land a late-night talk show on ESPN 2. That could be fun.
"I was enraged by Olbermann," explained ESPN chairman emeritus Herb Granath in the oral history Those Guys Have All the Fun: Inside the World of ESPN. "Guys like that just piss me off, you know, because there's no loyalty. It's just me, me, me. There was no choice but to get rid of him."
When Olbermann left, anchor Bob Ley remembered saying, "'Our long national nightmare is over, huh?' We felt not so much relief when Keith left as unrestrained fucking joy." Another of Olbermann's fellow anchors said, "There was a rumor a few years ago that maybe Keith would come back, and one of our coordinating producers said, 'I think it would be a good idea but with one caveat. He first has to stand in the reception area, and everybody who wants to gets to come up and punch him in the stomach.'" That would be fun.