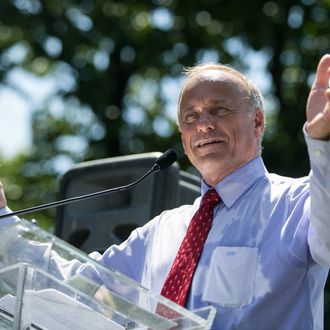 Is that sweat?
Photo: Drew Angerer/Getty Images
Leading Republicans are not happy that extremist Iowa congressman Steve King has been going around claiming that a large portion of illegal immigrants are cantaloupe-calved drug-smugglers. John Boehner called the remarks "wrong" and "hateful," while Eric Cantor deemed them "inexcusable." According to King, such pushback only means that he has "won the debate":
"You know when people attack you — in this business, when you're in this business, you know that when people attack you, and they call you names, they're diverting from the topic matter," King said in a phone interview. "You know they've lost the debate when they do that. We've talked about it for years. Tom Tancredo and I joked about it that that's the pattern. When people start calling you names, that's what confirms you've won the debate."
It's probably just a coincidence, but people also attack you and call you names when you're an asshole.