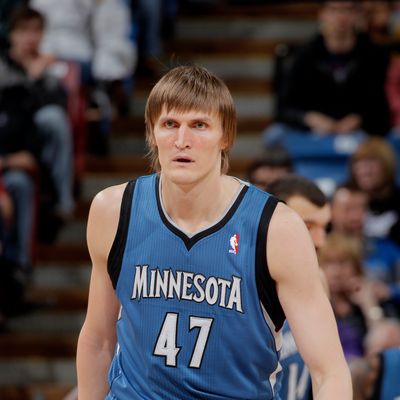 Hey, ladies.
Photo: Rocky Widner/NBAE/Getty
Thanks to Russian camaraderie and some poor decision-making, the Brooklyn Nets just got even better. Andrei Kirilenko, the extremely versatile former All-Star, has agreed to a two-year deal with the Nets for about $3.18 million a year. This represents a steep pay cut for the 32-year-old, who recently opted out of a contract with the Minnesota Timberwolves that would have paid him $10 million this year, only to discover that nobody else was willing or able to spend that kind of money on him. But at least Kirilenko gets to reunite with Nets owner Mikhail Prokhorov, a fellow Ruskie whom he knows from back in the day. And he gets to play for a team that, during the off-season, has suddenly became one of the best in the East.
Of course, putting an elite roster together isn't cheap. As noted earlier this week, before the Kirilenko signing, the Nets were set to owe $75 million in luxury taxes this season — more than the taxes paid by all 30 NBA teams combined last year. Because the Nets are already so far over the cap, that record-setting bill just got bumped up another $13 million to around $88 million. Prokhorov, of course, with a net worth of about $13 billion, gives absolutely zero shits.
If there's one thing the people of Brooklyn — the ladies of Brooklyn, especially — should know about Kirilenko, it's that his wife, a former Russian pop star, has publicly declared that he's allowed to have sex with another woman once a year. It's not clear if Kirilenko has ever actually taken advantage of this offer, but, nevertheless, if you've always wanted to hook up with a lanky, Russian giant with a massive World of Warcraft tattoo on his back, now is probably your best chance.