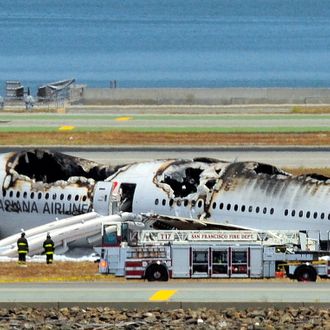 Photo: Josh Edelson/AFP/Getty Images
On Friday, Bay Area Fox affiliate KTVU acquired a list of four names that someone told them belonged to the pilots of Asiana Flight 214, which crashed last week. An unidentified reporter called the National Transportation Safety Board and was directed to an "official" at the agency who confirmed the spelling of the names. Co-anchor Tori Campbell then went on the air and read them aloud during an afternoon broadcast. As should have been apparent to anyone who had given any thought to the matter,  the names — "Sum Ting Wong," "Wi Tu Lo," "Ho Lee Fuk," and "Bang Ding Ow" — were fakes, with possible origins in "racially insensitive joke online," as USA Today put it. And, it turns out that the NTSB representative responsible for confirming the names was actually a summer intern. Both KTVU and the NTSB have apologized for their blunders.
"We made several mistakes when we received this information," read a note on KTVU's website. "KTVU accepts full responsibility for this mistake." The NTSB put out a press release saying, "A summer intern acted outside the scope of his authority when he erroneously confirmed the names of the flight crew on the aircraft. The NTSB does not release or confirm the names of crew members or people involved in transportation accidents to the media. We work hard to ensure that only appropriate factual information regarding an investigation is released and deeply regret today's incident. Appropriate actions will be taken to ensure that such a serious error is not repeated."
Meanwhile, in much more serious news about Flight 214: A third person has died as a result of injuries sustained in the crash. Chinese state media has identified the victim as Liu Yipeng, a teenager who attended school with the two other girls killed in the wreck. San Francisco police officials have also confirmed that one of the first two victims, 16-year-old Ye Meng Yuan, was run over by a firetruck as it responded to the emergency, though it's not yet clear whether she was already dead from injuries when she was struck. Two adult passengers from the flight remain in critical condition at San Francisco General Hospital.