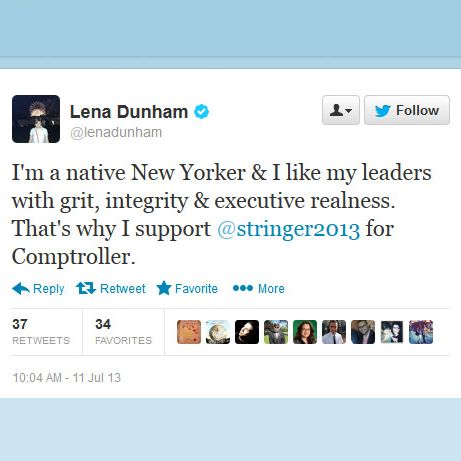 Girls creator and thinkpiece muse Lena Dunham chimed in this morning on Twitter with her take on the recently interesting race for comptroller (and provided her followers the relevant Wikipedia link), throwing her support behind sudden underdog Scott Stringer. While she was making endorsements, Dunham also expressed her intention to vote for Christine Quinn in the mayoral race, leaving the guys with penis issues 0-for-2. And no, the HBO star said, it's not because her best friend works for Stringer and Quinn.
Stringer's former press secretary Audrey Gelman, a.k.a. photographer Terry Richardson's girlfriend, goes way back with Dunham and has appeared on Girls. She's currently employed by the political PR firm SKDKnickerbocker, which works with Quinn and now, after a poll found him trailing Spitzer by nine points, Stringer too:
The Manhattan borough president, while lacking the name recognition of the hooker-loving former governor, does have a way with celebrities: He's rubbed elbows with Scarlett Johansson, Lady Gaga, and Justin Bieber.
In response to a mention of the Gelman connection, Dunham tweeted, "I have my own brain!" Gelman told Daily Intelligencer, "We are thrilled to have her support."