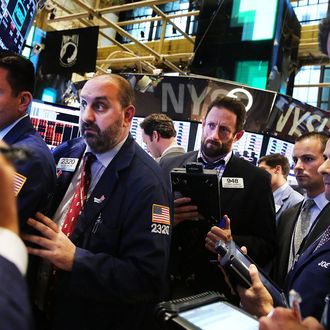 Take that, King George!
Photo: Spencer Platt/Getty Images
LIBOR, the global interest rate that is used to value $800 trillion in financial transactions and became famous when a bunch of overexcited bros conspired to rig it, has been sold for one British pound (that's $1.49) to NYSE Euronext.
Now LIBOR, which stands for the London Interbank Offered Rate, will no longer be handled by the British Bankers Association, which has been hiring Canadian-founded Thomson Reuters to calculate the rate for years. Instead, it will be overseen by the company that owns the New York Stock Exchange, which is actually based in Atlanta.
It's all very confusing, but the upshot is this: The British Bankers Association, a bank lobbying group, doesn't want anything to do with scandal-flecked LIBOR anymore now that British politicians have observed (astutely!) that polling a group of banks about their borrowing rates, then relying on their honor-system submissions, is probably not the best way to calculate an interest rate. So it basically gave it away.
What will the NYSE do with LIBOR, you ask, now that it's got it? Probably nothing. Since LIBOR is used as a benchmark for basically every transaction ever, you can't really change it in substantive ways without creating all kinds of havoc. It's more likely to be replaced than reformed. And it's not a huge moneymaker. The WSJ says it creates only £2 million of revenue a year.
Still, it's kind of cool that an American company now controls the most important interest rate in the world. And so what if it's tainted by scandal? As certain local political candidates know, there's no place like America for some timely image-rehab.