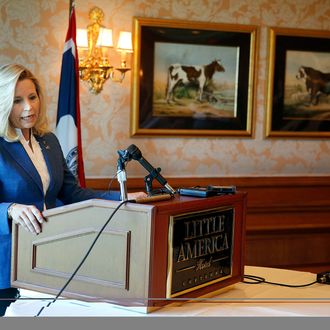 So mean.
Photo: Marc Piscotty/Getty Images
In her first campaign appearance since announcing her candidacy for senator of Wyoming on Tuesday, 46-year-old lifelong Virginian Liz Cheney suggested that Mike Enzi, the 69-year-old GOP incumbent she is primarying, was "confused" about whether she promised him that she wouldn't challenge him if he ran for reelection. "I think he may have me mixed up with Cynthia Lummis," Cheney suggested, referring to Wyoming's lone congressional representative, a blonde woman who may kind of look like Cheney if your mental faculties are quickly deteriorating.
In fact, though, Cheney might be right — Lummis did say she would run if Enzi retired. And earlier this month, the Times reported, "Mr. Enzi revealed that Ms. Cheney told him this year that she was thinking about challenging him in 2014." Enzi certainly didn't think Cheney was offering him any guarantees as of a couple of weeks ago. 
Correct or not, it's clear that Cheney intends to make Enzi's age an issue. Aside from her "confused" comment yesterday, Cheney had earlier declared that she's running because she believes "it's necessary for a new generation of leaders to step up to the plate." Enzi isn't really even that old, by Senate standards — at 69 years and 185 days, he's the 25th most elderly senator currently serving. By the end of the primary campaign, though, Cheney will be giving him friendly reminders to take his meds.