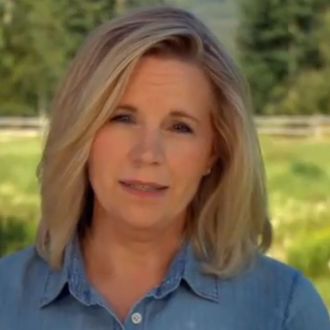 Scene from Cheney's announcement video.
Her move from Virginia to Wyoming a little over a year ago was always assumed to be motivated by politics, and today, Liz Cheney, daughter of former Wyoming congressman and current immortal humanoid Dick Cheney, confirmed those suspicions by announcing her candidacy for Senate in 2014. There's just one little problem standing in her way: Mike Enzi, the 69-year-old Republican incumbent. Enzi, the eighth most conservative senator in the country, is running for reelection in 2014 and remains very well liked. Consequently, according to a Times story from a few weeks ago, Cheney's candidacy will foment a kind of civil war in Wyoming, in which each of the state's 100 or so residents will be forced to choose sides:
It would bring about "the destruction of the Republican Party of Wyoming if she decides to run and he runs, too," Alan K. Simpson, a former Republican senator from the state, said in an interview last week. "It's a disaster — a divisive, ugly situation — and all it does is open the door for the Democrats for 20 years."
Bad blood, in fact, has already been spilled. 
So did Harry Whittington.