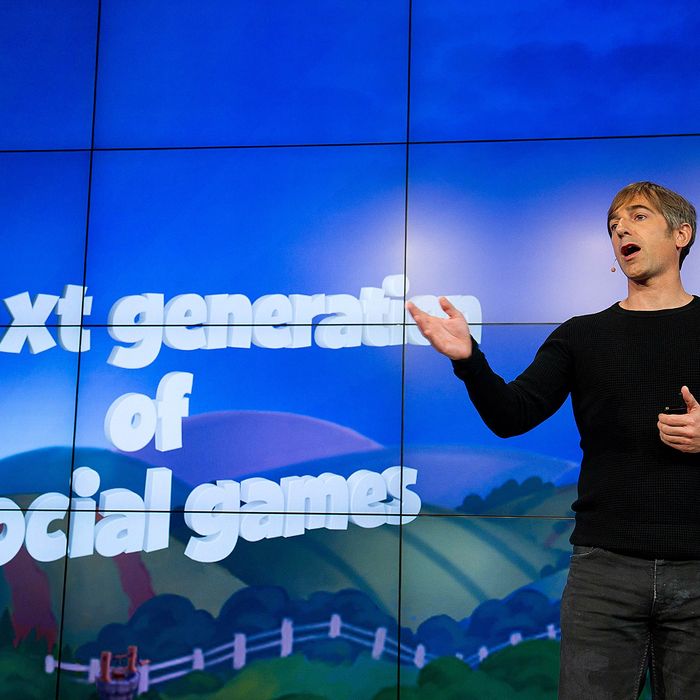 It's morning in FarmVille.
Photo: David Paul Morris/Bloomberg/Getty Images
Mark Pincus, the founder of stupid-Internet-game purveyor Zynga, has a notorious reputation among Silicon Valley CEOs. Profile after profile has described Pincus's "fearsome" management style, "control freak" personality, and willingness to pull out every scammy trick in the book to sell FarmVille, CityVille, and other time-waster games to bored Facebook users.
Now Pincus is out. Sort of. Zynga announced today that Microsoft executive Don Mattrick will be taking over as CEO of the beleaguered gaming company. Pincus will keep his chairman title, as well as the title of chief product officer. But he'll no longer oversee day-to-day operations of the company he built and cashed out of, and for the first time in the company's six-year history, Zynga employees will no longer have to work for a boss who once required an emergency likability intervention from an outside consultant.
In the spirit of giving Pincus a fond farewell, we thought we'd assemble some of his greatest hits as Zynga CEO. Historians, take note: This is what bad management looks like.
Scamming users.
Pincus's low point as CEO was probably in 2009, when he was caught on tape telling a group of people at a Berkeley mixer that in Zynga's early days, he had done "every horrible thing in the book to, just to get revenues right away," including making users download hard-to-remove apps in exchange for game credits.
Snatching back employee stock.
In 2010, as Pincus was preparing to take Zynga public, he reportedly decided that Zynga had been too generous in giving out stock to its employees. Rather than live with the mistake, Pincus engineered an unheard-of scheme: He greedily demanded that certain employees give back their shares or be fired. Pincus didn't need the stock, strictly speaking — he'd already sold millions of his own shares in the lead-up to the ill-fated IPO — but by giving employees an ultimatum, he ensured his place in the questionable-management hall of fame.
Botching his makeup attempt.
Pincus attempted to right his 2010 wrong by offering stock to all Zynga employees. But he got steamrolled in a disagreement with other executives about who should get shares, and how many. According to The Wall Street Journal, although Pincus wanted to give stock options to everyone at the company, he settled on a performance-based grant that gave only a tiny amount of stock to some employees, who viewed it as "an insult and a pittance," according to the Journal's sources.
Bullying public officials over taxes.
In 2011, Pincus led a group of Silicon Valley CEOs in lobbying San Francisco mayor Ed Lee for preferential tax treatment. According to Bloomberg, the meeting between the Pincus-led group and Mayor Lee was less a plea than a threat: "Pincus led the group in pushing Mayor Lee to repeal the citywide tax, all but threatening to move Zynga out of the city if the tax remained."
Consolidating power through stock schemes.
Many public companies (like, say, the New York Times) have multiple classes of stock, with the top classes holding more voting power than the lower classes. As Zynga CEO, Pincus set a new bar for bad corporate governance; he created a class of super-shares just for himself, with 70 times the voting power of the common shares normal people could buy on the stock market, and ten times the power of other executives' shares. He might only have owned 12 percent of Zynga's stock, but thanks to his special share class, he was disproportionately powerful.
Running his company into the ground.
There may never have been long-term potential for Zynga (reminder: it's a company that sells dumb Internet games), but Pincus's track record as CEO is still abysmal. The company's stock price was down 70 percent from its IPO price (although, in a nod to Pincus's reputation among shareholders, it rose once he announced he was giving up the CEO role). And last month, the company laid off 18 percent of its workforce, in a sign of things to come.
Being a general tool.
"I went out of my way to tell people they were stupid if I thought they were," Pincus told Details magazine in 2010, about his previous career as a management consultant. "People loved me or hated me. In hindsight I was forcing myself to be an entrepreneur – I was shutting all the doors."
Making Cameron Diaz buy him drinks.
I mean, come on.