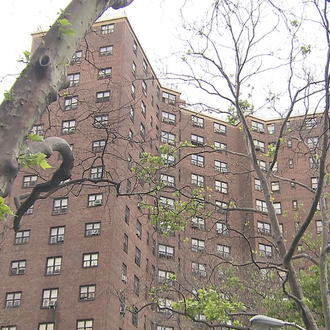 Democrats Anthony Weiner, Christine Quinn, Bill Thompson, Bill de Blasio, and John Liu spent Saturday night in East Harlem's Lincoln Houses, which, as all five noted during a 6 a.m. press conference, are considerably less comfortable than their own homes. Al Sharpton organized the sleepover to draw attention to the often awful conditions inside New York's public housing complexes. "Just one night won't solve all the problems, but one night will take the issues out of the margins," he said of what appears to have been a fairly helpful publicity stunt. The candidates were given a tour of the facilities and slept in sleeping bags in the apartments of families kind enough to host them.
Though the New York Daily News reports that NYCHA sent workers to tidy up the buildings before their guests arrived, the quick clean-up job didn't take care of the longstanding issues the candidates encountered, which included broken locks and elevators, vermin, and urine in the hallways. Quinn said her host family has spent years unsuccessfully trying to get NYCHA to do something about the black mold infestation in their apartment. "The mold in this bathroom is some of the worst that I've ever seen," she said, adding that, "They're very soon, I would argue, going to have the same kind of black mold right over where they prepare their food." The kitchen cabinets in the apartment de Blasio stayed in were ruined by a leak in 2011 and, though they were finally removed a month ago, the residents don't know when they'll be replaced. Thompson and Weiner both endured a night without air conditioning. (Meanwhile, Liu was reportedly out past midnight playing cards in a yard with Lincoln Houses residents.)
"I spent last night living with a family living in conditions you would never tolerate," said Weiner, who seemed to have given more thought to the event than he did his recent food-stamp diet. He added that, regardless of who eventually wins the mayoral race, the candidates' visit meant that, "For the first time in a long time, we're going to elect someone who has the citizens of NYCHA forefront in their mind." (That's assuming there's no crazy Republican upset, since John Catsimatidis and Joe Lhota declined to participate.) Hopefully, those memories will last past November.