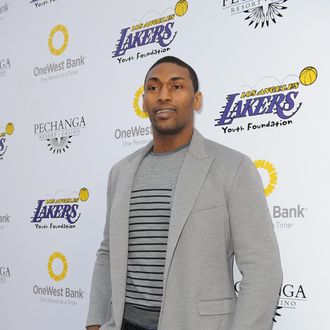 World Peace.
Photo: Aaron Poole/NBAE via Getty Images
After being cut by the Lakers last week, and clearing waivers over the weekend, the artist formerly known as Ron Artest and currently known as Metta World Peace, because why not just choose an awesome name for yourself, appears close to possibly signing with the Knicks. According to his agent, there is "mutual interest" between the Knicks and World Peace, while other reports indicate that the Knicks are the clear favorite to land the 33-year-old's services, which include defense, hustle, and baffling non sequiturs. 
However, World Peace himself has also suggested that he may just leave the NBA entirely and join the Chinese basketball league, because YOLO. "China has over a billion people. It's fun," he told Yahoo Sports. "I want to be adventurous. I've been thinking about it."
In the meantime, World Peace is clearly enjoying the opportunity to toy with Knick fans. On Sunday, the Queens native and St. John's alum tweeted, simply, #MettaComeHome: 
But a few hours later, he was talking up Yao Ming, who owns the Shanghai Sharks:
And later in the day, he posted a photo of himself in a Mets jersey:
Is this some sort of signal? Or not? Mind games, we tell you. Mind games. 
Update, 1:00 p.m.: And then there's this, which … we don't know, but it's definitely a point in favor of New York: