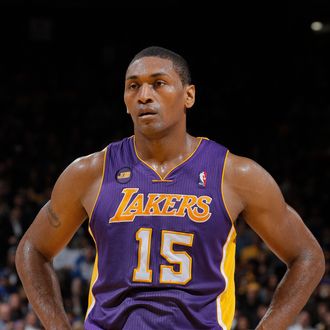 World Peace.
Photo: Rocky Widner/NBAE/Getty
If the Lakers cut Metta World Peace, as is expected, the eccentric small forward formerly known as Ron Artest would love to come to the cash-strapped Knicks, and the Knicks would love to have him, according to World Peace's dad and anonymous league sources. If you're not familiar with World Peace, he used to be a pretty elite defender, he had a normal name until a couple of years ago, and though he's mellowed out quite a bit — you have to be pretty mellow to legally change your name to "World Peace" — he was long known as one of the NBA's foremost psychopaths. In fact, he was the instigator of perhaps the most notorious sports brawl of all time, 2004's Malice at the Palace. 
So yeah, this would be entertaining. You should be hoping for this.