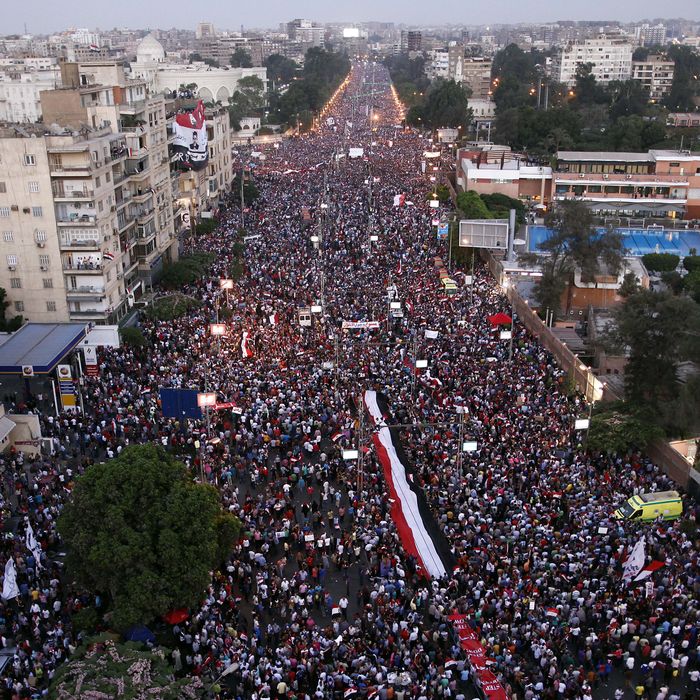 Demonstrators outside the presidential palace in Cairo on June 30, 2013.
Photo: MAHMUD KHALED/AFP/Getty Images
For weeks, supporters of Egyptian President Mohammed Morsi have suggested that protests against his rule were the work of a handful of those loyal to his predecessor, Hosni Mubarak, but the staggering number of people who poured into the streets on Sunday suggest that isn't the case. Egyptians marked the one-year anniversary of Morsi's inauguration with demonstrations in cities across the country, which appeared to be even larger than those that ended Mubarak's rule. While Reuters notes that the number seems "implausibly high," a military source said that 14 million Egyptians took part in Sunday's protests. The country has a population of only 84 million, so if accurate, that would mean one sixth of the population was out calling for the nation's first elected leader to step down after just a year on the job.

In most areas the mood on the street was festive, but the country's Health Ministry estimated that five people died in the protests on Sunday and 613 people were injured (in addition to seven people, including an American student, killed during demonstrations last week). At least 43 women were sexually assaulted by gangs of men during the rally in Tahrir Square.
Muslim Brotherhood offices were ransacked around the country, and in Cairo the Brotherhood headquarters was attacked with rocks, shotguns, and Molotov cocktails. The few people inside the building fired at protesters and eventually the building went up in flames. The police, who warned that they wouldn't protect the Brotherhood from demonstrators, didn't stop the attack.
The protesters complain that Morsi and the Muslim Brotherhood are forcing Islamic law on the nation, failed to reform security forces, and mismanaged the economy. A presidential spokesman said in a televised address, "There are legitimate demands coming from the protesters and we acknowledged that." However, Morsi has rejected calls for his resignation, or early presidential elections. He told The Guardian on Sunday, "If we changed someone in office who [was elected] according to constitutional legitimacy – well, there will be people opposing the new president too, and a week or a month later they will ask him to step down."